There is no secret that this event is being exploited since the beginning.
You can see some posts here in the forum about it:


Since I am not that active lately in the game (only doing Velcoffer) and not reading much in the forums (only doing bot report threads) I had no idea of how the event was being exploitable.
Besides the obvious, of course:
Everyone creating Lv.1 characters to do the event and deleting them after and keep doing this to get more rewards till you die of boredom. (This has been reported since day 1 and I don't know why IMC didn't fixed yet)
People skiping parts of the event with bugged teleportation devices
So I thought that was fine, at least people was doing the event and jumping that plataforms from hell that annoyed the s*** of me when I tried and gave up after 30mins when I got stuck in a bugged spot on Orsha. My thought was even if they are doing with lv.1 characters it was their effort.
So today I read some report threads about people using hack in the event and saw several people shouting this in the game, acusing someone to be using in the moment, then I decided to take a close look on what was happening.
I went to Klaipeda and observed the spot that people enter/leave the event (near the Event Board).
What I saw was a lot of people doing the event with lv.1 characters, nothing new. But then I decided to see how much time was taking for them to finish the jumping event, most of them was doing an OK time, 2mins or more (considering you are very good at jumping the plataforms or are skiping the atribute pts vaults), but there were people doing in less than 1 minute, I can't believe that someone are skilled enough to do this or if this is even possible.
This particular player called EOQFONSL was doing super fast so opened the chronometer and the time that took him to enter,finish and leave was 22s.
I think he is doing this all day long because it has been several hours that I first saw him and he is still there as I am creating this thread. No doubt that he is hacking.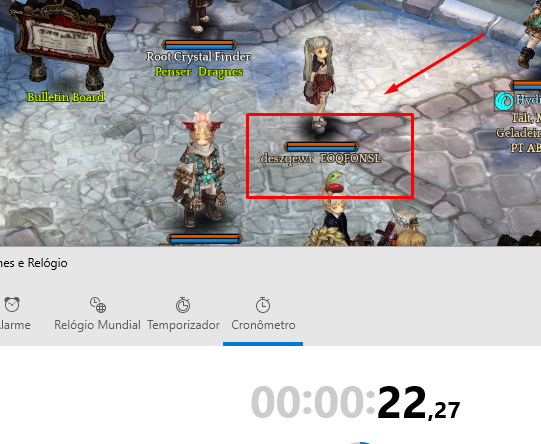 Other than that I don't think that many players are able to finish in good times like 2mins (I know I don't), so I rememberd that I saw this comment:


And also a post on facebook of someone making fun of how to take advantage of the freeze issue we were having at the time on Silute server by skipping the bolts when the lag spike (freeze) occur.

Then I realised that we could exploit the event by reproducing the "freeze effect" and knew exactly what to do because the day before I was uploading a GvG video and I couldn't play properly because of it (my internet do not have a good upload rate), I was getting insane lag spikes similar to the freeze issue.
So I recorded a video of how I think people are exploiting the event:

Oddly enough I didn't even finished the thread and someone already disliked the report video