I have been making a lot of guides for weekly raid boss lately, so I decided to create a thread instead of posting multiple video guide posts. Here's this week guide!
---
Weekly Raid Boss: Helgasercle Guide - The Burning Beauty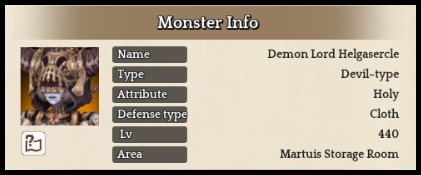 This weekly raid boss is Helgasercle, Demon Lord whose mission is to take over the Mage Tower, and she used to be one of the strongest Demon Lords out there. She is a Devil-type and holy attribute with cloth armor. Holy attribute monsters/bosses are likely to take more damage from Dark skills/damages.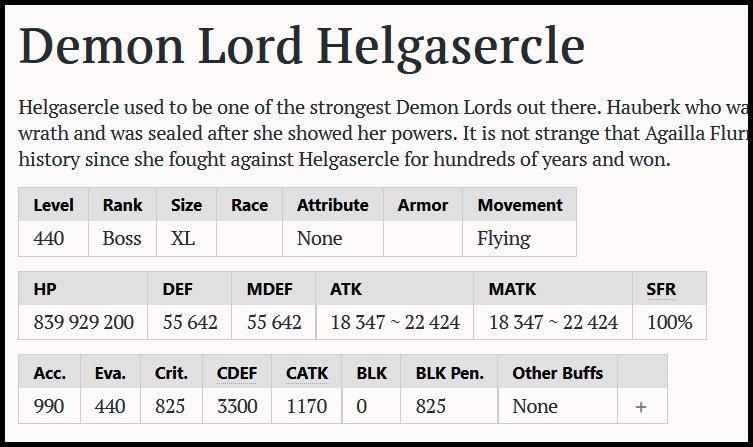 Helgasercle has 3,300 critical defense as default, and despite her type as a demon (0.7 CR Multiplier), but her XL size increased does factor in her critical resistance stats a bit. Based on my experiences, I don't have any problems landing a critical attack against Helgasercle, so make sure to pick up Boruta card for additional boss damage.
Helgasercle has a lot of decrease defense debuff abilities, so expect some huge drop in your physical + magic defenses.
---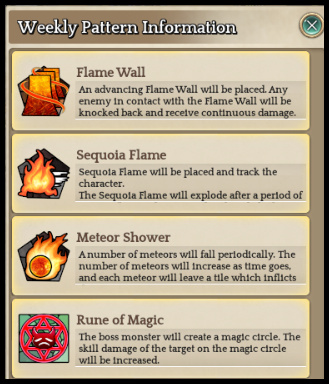 ➤ Helgasercle's first skill pattern is Flame Wall. She will summon a batch of a firewall that will move vertically or horizontally. The flame wall attacks are spawn in order from left, bottom, top, and right. There are several ways to deal with the pattern skill, which includes sitting the corner in the bottom left, or running through the gap between the firewall.
➤ Touching the Flame Wall ability will knockback, greatly reduce your character movement speed, and apply burn damage over time, so make sure to avoid the Flame Wall attacks as much as possible.
➤ Helgasercle's second skill pattern is Sequoia Flame. She will summon a small fire minion, which grow over time, and eventually explode upon maximum growth. The minion explosion will apply damage and reduce block debuff.
➤Helgasercle's third skill pattern is Meteor Shower. She will summon a giant meteor from the sky, dealing damage on impact, but also causing the ground to burn over time. The number of meteors will be multiple as you fight Helgasercle over time. Your best option is to stack the meteor in one specific location. Timing and practice are crucial to fight Helgasercle.
➤ Helgasercle's fourth skill pattern is Rune of Magic. She will summons a red magic circle underneath her royal dress. Anyone who stands on top of the magic circle will increase their skill damage. The magic circle also applies for Helgasercle, so lure the boss away from the circle as much as possible.
---
Lastly, here's the digital version + gameplay