The previous thread was closed because I accidentally used the solution checkmark. I need to avoid that in the future. I'm also doing something else entirely for this weekly raid boss, so head up!
Previous Weekly Raid Boss Thread:

---
Weekly Raid Boss: Zaura Guide - The Berserker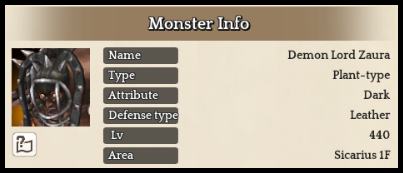 This weekly raid boss is Zaura, and he's plant type and dark attribute with leather armor. Keep in mind that plant type has more critical resistance (2.0 CR multiplier), so it will be difficult to land any critical attack with a low critical rate.
▬▬▬▬▬▬▬▬▬▬▬▬▬▬▬▬▬▬▬▬▬▬▬▬▬▬▬▬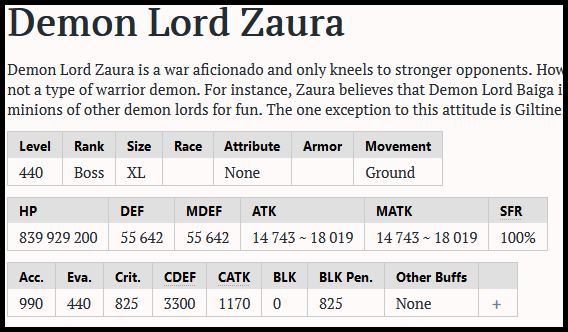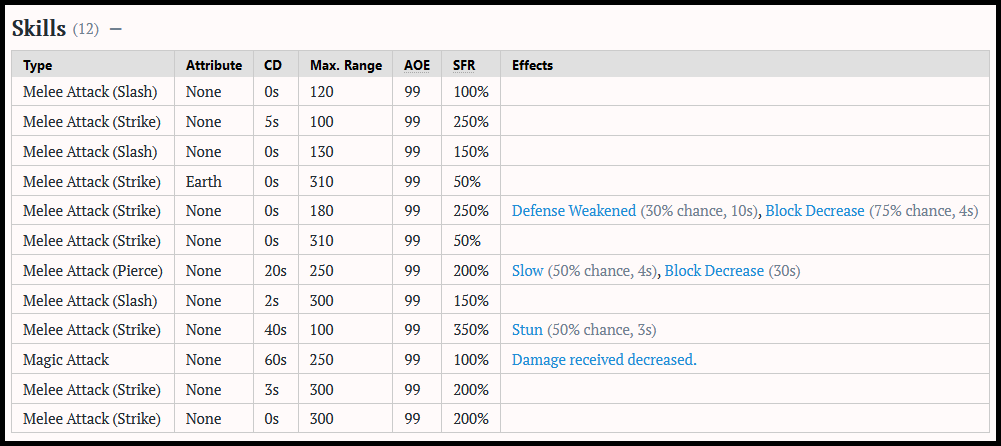 Almost all Zaura's attacks and abilities are physical type, so stack up your physical defense as high as possible.
▬▬▬▬▬▬▬▬▬▬▬▬▬▬▬▬▬▬▬▬▬▬▬▬▬▬▬▬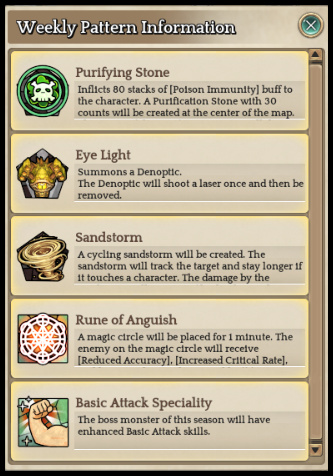 Weekly Raid Boss: Zaura - Skills Patterns
➤ Purifying Stone: Zaura will have a permanent purifying stone in the center of the map throughout the fight. Your character will have 80 poison immunity stack, and you are going to use it to refill the purifying stone stack as soon it drops down to 20. This way, you can keep the stone as healthy as possible without burning all stacks. Moreover, the purifying stone will lose 1 stack every 2 seconds, so keep that in mind.
➤ Eye Light: Zaura will summon a giant eyeball and shoot a giant laser beam in a straight line. It takes roughly 1-2 seconds, so move away from the indicate attack line right away.
➤ Sandstorm: Throughout the fight, Zaura will summon multiple tornados that will spin around the center of the map. There will be a gap between the tornado, so your players can run through it. The tornado will follow your character upon touch, so be careful!
➤ Rune of Anguish: Zaura will summon a giant magic rune that increases your character's critical rate and critical damage, but it also reduces your accuracy! Pick up accuracy random stats ichor to counter the side-effect!
➤ Basic Attack Specialty: Zaura will have a stronger basic-attack, so pick up as many defensive buffs as you can. The boss can hit as high as 25k-35k with the basic attack specialty.
▬▬▬▬▬▬▬▬▬▬▬▬▬▬▬▬▬▬▬▬▬▬▬▬▬▬▬▬
Recommend Potions & Buff Effects

➤ Squire's Food Buffs
➤ Pardoner's Shop Buffs
➤ Plant's Hero/Goddess Retribution Potion
➤ Leather ARTS Maintenance/Repair! (Extra damage buff)
➤ SPR to CON conversion enchant for Magic Builds, and 1% Nullification for Physical Builds
➤ Leticia Special Potion (Damage Reduction)
▬▬▬▬▬▬▬▬▬▬▬▬▬▬▬▬▬▬▬▬▬▬▬▬▬▬▬▬
Other Related Sources

➤ Zaura (Weekly Raid Version Stats): https://tos.neet.tv/npcs/59369
➤【Exorcist - Druid - Crusader】:https://tos.neet.tv/skill-planner#41k5l.15246175.1f213d415a75.6fa45aba8591.451f3a6a25
➤ Vaivora 2H Mace Stats: https://tos.neet.tv/items/210418
▬▬▬▬▬▬▬▬▬▬▬▬▬▬▬▬▬▬▬▬▬▬▬▬▬▬▬▬
Video Timestamp

➤ 0:00 - 0:30 - Introduction
➤ 0:30 - 3:40 | Zaura Overview & Stats
➤ 3:41 - 4:38 | Equipment & Ark
➤ 4:39 - 6:36 | Cards (Normal & Legend)
➤ 6:37 - 7:28 | Skills Build
➤ 7:29 - 9:05 | Recommend Potions & Buffs
➤ 9:05 - 16:22 | Weekly Raid Boss - Zaura Full Gameplay
▬▬▬▬▬▬▬▬▬▬▬▬▬▬▬▬▬▬▬▬▬▬▬▬▬▬▬▬