Please fill in as much as you can :
Date and Time :01/05/16
Game Control Mode (Keyboard/Joypad/Mouse) :keyboard
Bug Description :
Hello. When I click Play on steam, the updater shows up but it does not work, and I get error 975 (Failed to download list file). Already tried multiple solutions, such as editing release.revision file, revalidation of local files by steam and unchecking DLC installation.
When I uncheck the DLC the error actually does not show up, but the updater does not work anyway. I could not update/play the game on this computer since last month launch (on closed beta it was fine), I'm out of ideas. I'm using GData antivirus/firewall btw (but I already deactivated both)
Any ideas?
Screenshots: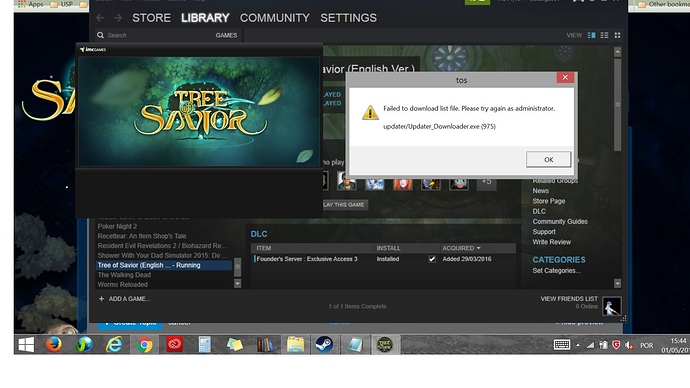 System
CPU : i7-4500U
RAM : 8GB
Graphics Card : Intel HD Graphics
Mainboard : asus zenbook
Storage :
OS : Windows 8
Internet Connection :
Country, Region : Continuing the discussion from About the Connection / Game Crash category: Brazil