[Last Updated October 17, 2021] Updated Aether Gem enhancing screenshot, added information about Aether Gem Socket.
Title: Bounty Hunt and Aether Gem guide
Server: [SEA] Telsiai
Team name: Redrelle
Contents of this guide will tackle the following:
Bounty Hunt
Aether Gem
The updated Remnants of Bernice Dungeon
Bounty Hunt
Bounty Hunt is a solo content that will be available once you reach Lv460.
You can start the Bounty Hunt from the Wanted Board NPC located in each town (Klaipeda, Orsha, Fedimian), and you need a Written Order.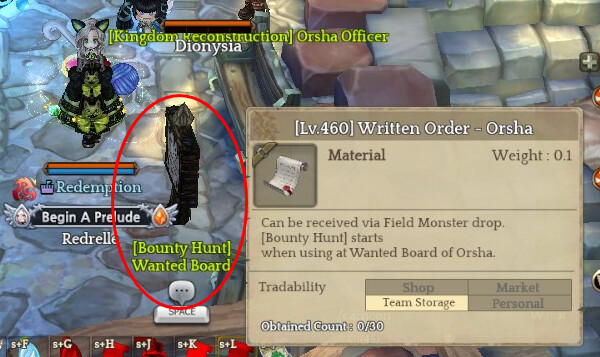 Written Orders can be farmed in the following maps:
Ashaq Underground Prison 1F
Ashaq Underground Prison 2F
Ashaq Underground Prison Containment Area
And there are three types of Written Order:
[Lv.460] Written Order - Klaipeda
[Lv.460] Written Order - Orsha
[Lv.460] Written Order - Fedimian
To start, talk to the Wanted Board npc and give the Written Order. The destination map will be shown.
You just need to go on an adventure and arrive at the destination map within the time limit (30 minutes)… by walking.

Any kind of teleportation is unavailable when Bounty Hunt is in progress.


Source: Tree of Savior
Route guide for your smooth adventure (credits to the creator):
Along the way, monsters will randomly spawn (and they will always spawn around you). You need to defeat these monsters to proceed with the next map. There's a buff where you can see the monster count.
A boss is waiting for you in a random location once you arrive at the destination - you just need to find and defeat it. Note that you can also see the boss of other bounty hunters, you'll know if it's yours if you can hit it.
Rewards that you can obtain in Bounty Hunt are Goddess Token (Gabija), Breath of Power, and Aether Gem Fragments.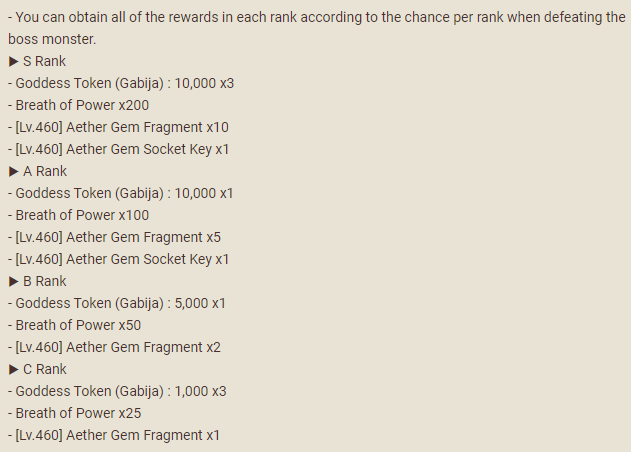 Time is gold and it is better if you can clear one hunt fast so you can do more. Some tips to increase your movement speed for faster hunting:
Having a class with increase movement speed skills (like Plague Doctor and Cataphract)
Botanic accessories
Wind Runner boots
Goddess Statue buff
Miracle Seed buff
Movement speed enchant (in hair accessory and armor enchantment)
Aether Gem
You can get one Aether Gem of your choice when you right-click 20 pieces of Aether Gem Fragments.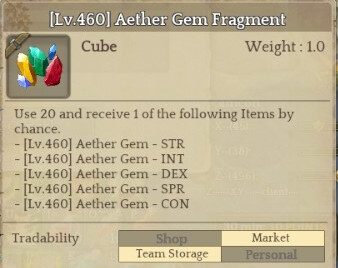 Types of Aether Gem:
[Lv.460] Aether Gem - STR
[Lv.460] Aether Gem - INT
[Lv.460] Aether Gem - DEX
[Lv.460] Aether Gem - SPR
[Lv.460] Aether Gem - CON
Aether Gem increases the stat by 2 per gem level. Maximum level up to this date is Lv120.
You can enhance Aether Gems by doing Remnants of Bernice Dungeon.
Equip your Aether Gem in Goddess Equipment Management > Socket Management. You need an Aether Gem Socket Key to open the socket.
Aether Gems can only be equipped in weapons (main and sub). You need to open the weapon's two normal sockets before you can unlock the Aether Gem socket.
The socket key is also one of the rewards (Rank S and A) when you do Bounty Hunt. It also has a recipe and is available in Gabija Shop.
Right-click the crafted key to make it a reusable key.
Remnants of Bernice Dungeon
You can run this dungeon weekly. Enter the dungeon via Content Status Board (F10).
When entering, you need to select the stage where you want to start.
Your highest cleared stage will be saved (and it will not reset every week).
You just need to kill all the monsters within the 3-minute time limit.
When you successfully finished the stage, a Kupole NPC will appear where you can enhance your Aether Gem.
You can enhance an equipped or unequipped aether gem.
You can enhance up to 5 times only. To enhance more, you can purchase one entry vouchers in Mercenary Badge Shop and enter again.
Success rate of enhancement depends on the level of Aether Gem and the cleared stage. As for my screenshot, the gap between my gem level (15) and the cleared stage (26) is above 10 so there's 100% success rate.
I compute my entry stage level by:
(Gem level + 5) + 10 (so that it will be 100% success rate for all 5 tries)
Nothing will happen if enhancement fails (your gem will not break or disappear). There is also no fee when enhancing.
If you are into the rankings, it is set based on the following criteria:


Source: Tree of Savior
Same rewards are given as the old Remnants of Bernice Dungeon:
Mercenary Badges when you do the dungeon (higher stage cleared gives more badges)
Dimensional Incense Burner for the top 3 in each class
Weekly reset for this dungeon is Monday at 6AM (server time), and you can receive the rewards every Monday at 9AM (server time).
Note that you cannot enter the dungeon on every monday at 5AM to 6AM (server time).