Do you want a flashy, cool build?
Do you like seeing those crits fly on your screen?
Do you like erasing a boss monster quickly?
Then this guide is not for you!
Archer Sapper Wugu Falconer
This build is:
all about DoT (damage over time)
laying down traps to deal damage for you
mainly for land mobs
elemental damage plays a big role
having fun by applying debuffs easily
playing with less stress as you're a tanky archer that lays down skills and mobs die
Skill distribution:
https://tos.neet.tv/skill-planner#3156e.115145718592.1331af416aba85.417f815c6a91a5.21335f8abad5c1
currently testing this with minor changes post patch. There is no wrong distribution, just need to know which skils you use more than others
Gear set up:
Plate gear or preferred, (poison can't crit)
Crossbow with Masi xbow ichor
Shield or dagger with Wastrel dagger ichor (I prefer shield)
Stack STR gears and ichors
Cards:
Velnia Monkey for red slots
Gazing golem x1 for purple +2 others
Nuaele or Zaura x3 for blues (3x Armaos really works well in CM too)
Netherbovine for greens
I use these for gems:
Top & bottom: yellow for more pdef
Glove & boots: green for crit (sapper falco skills)
red gems for weapons
=====
Update post SFR changes:
the patch brought out a stronger version for this build overall. I cannot ask for more other than more skill points which is impossible.
If you play ToS and want to farm CM outer15 conveniently, this is the build for you. You run around laying traps, applying poison which is a breath of fresh air versus just spamming OP dmg skills.
Hoping to see more people appreciate this build some day! (especially with upcoming new xbow class?)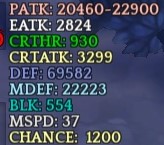 *Will try to breakdown the skills in the future. The build is fun to be honest, not just having crazy SFR% to kill stuff. A lot of mini-mechanics can be utilized and some hidden mechanics too wink.wink
Update as of 24/12/2019

*Will most probably go replacing Falconer with the upcoming new class the Arbalester when it comes up.*