Misrus Guide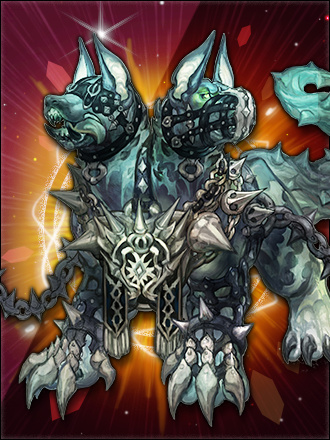 Misrus is a two-headed dog created by the powers of the Demon King. It viciously attacks anyone that approaches with its ceaseless Psychokinesis and Poison-property attacks. You can fight Misrus in the new Level 400 Hunting Ground, Outer Wall Sewers.
You can gather scrolls in Outer Wall Sewers by killing monsters and turning in supply slips at the devices near the entrance to Misrus' Chamber. Using these in the fight will give you a buff to Attack, Defense, or a Shield. If you leave the sewers, these scrolls will disappear.
You can enter the fight at the Sewer Docks. You can use 2 Soul Crystals during the fight.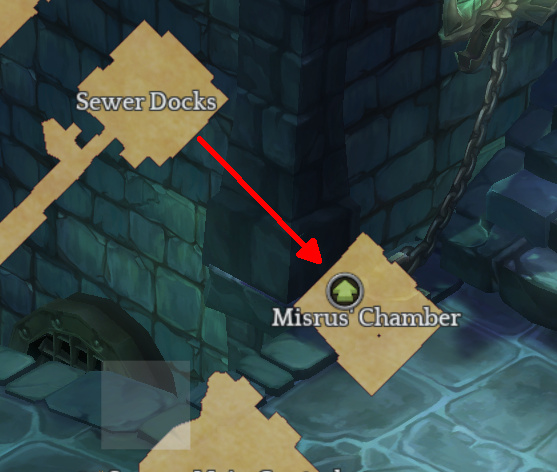 Rewards
You will receive one Legend cube upon defeating Misrus with a chance of a Mystic Tome Page.
You get bonus Soul Fragments if you complete optional objectives:
Never let your HP go to 30% or lower
Don't die
Defeat within 5 minutes
Defeat on Hard mode (+2 fragments)
You have 20 minutes to defeat Misrus. After that, he will go on a rampage. This causes lightning bolts to appear on top of you wherever you are, killing you. He has 337 million HP on hard mode.
This is an early guide and was tested on Hard mode. Further explanations will be provided as time goes on. Please provide corrections or more information if you have it.
Expansion
Stacking buff over the course of the fight. Gains one stack every 60 seconds.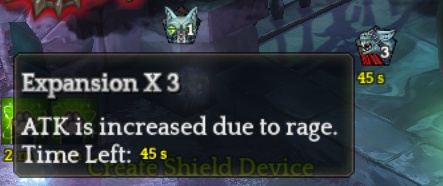 Phases
At certain HP intervals, Misrus will jump to the middle and say "I will show you hell on earth!!". This signifies a phase change. When the phase changes, he gains access to new attacks while keeping his previous ones.
100% - 81%: Claw, Slam, Triple Slam, Charge, Tail Whip
80% - 55%: Acid Pentagram, Player-tracking Psychokinesis, Recovery Psychokinesis, Blue Aura
54% - 31%: Acid Breath, Yellow Gas
30% - 5%
4% - 0%
Attacks
Claw: Basic attack. Misrus claws a small area in front of him.

Slam: Misrus slams the ground in front of him with his paw. This deals damage, and creates a cross-shaped explosion that deals further damage afterward.

Triple Slam: Misrus slams the ground with his paw three times in a row. This has a large telegraph in a different size and shape every time he slams.

Charge: Misrus charges forward. Inflicts Stun if you are hit. Has an arrow telegraph and his eyes will flare red.

Tail Whip: Large telegraphed AoE. Can jump to dodge or move out of the way.

Acid Pentagram: Giant green pentagram on the floor. Slows and damages you while you stay inside it. Before appearing, is telegraphed with a large flashing red circle. Only one can be active at any time.

Acid Rain: Lowers defense over time in stacks. Also creates small cascading blood puddles on the floor that explode a second after appearing, dealing damage to you if you are on top of them.

Player-tracking Psychokinesis: A red crystal that appears. If not broken within 20 seconds, a fast moving blue ball will appear that chases you down. Rapidly deals small damage to you if it is touching you. Crystal has about 600k HP.

Recovery Psychokinesis: A green crystal that appears. If not broken within 20 seconds, a fast moving blue ball will appear that flies toward Misrus. While the blue ball is on top of Misrus, he rapidly heals HP. Crystal has about 600k HP.

Blue Aura: Misrus will occasionally roar and put a blue aura around him. The lasts for about 15-30 seconds(?) and rapidly deals moderate damage and slows you if you stand in it. The aura is a donut, so you take no damage or slow if you're standing right next to him or outside of it (only the blue ground hurts).

Yellow Gas: Misrus uses this after stunning you with his charge. He will do a unique roar and create a slow moving yellow gas cloud. This gas cloud deals heavy damage if you stand in it.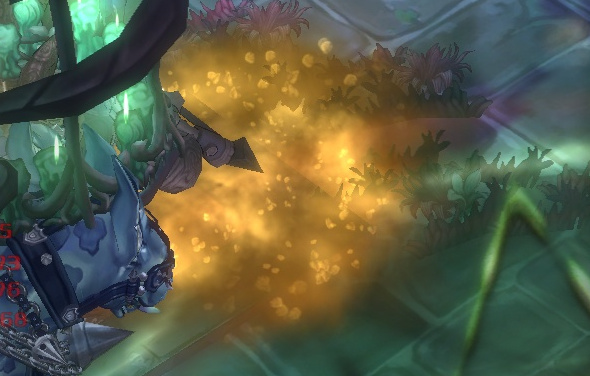 Special Attacks
I will show you hell on earth!!: Occurs at specific HP intervals and signifies a phase change. Occurs at 81%, 55%, 30%, and 5% HP. A chain will appear in a random spot in the arena, 3 different locations (southwest, northeast, southeast). You must touch it within 6 seconds or you will die.

I will melt you away to nothing!!: Acid breath is spewed forward with a visible cast bar. Must get behind the boss or to the side. Heavy damage.

Psychokinesis Pentagram: A blue pentagram that looks similar to the green one. Misrus will begin summoning these in the corners of the room one by one when there are only 5 minutes left on the fight. You must defeat Misrus before the entire room is covered.
[picture of blue pentagram here]