no wonder the game is 900 people playing now with bots and their alts.
i put my primus pants on market like 3 month ago
stats of it are 47 SPR 47 INT 47 CON, i was thinking if i cannot sell it then i will try ichor.
then 2.5 month ago, IMC updated market UI, that was before the silver hack, and my pants disappeared from market, it is not completely disappeared then, but i cannot see it with the character i put it with( neither from selling tab nor market), while i can see it on market with my other characters, so i didn't be aware of the problem and thought it might be just a visual bug so i plan to wait till the selling period to expire.
however when the selling was expired. my item didn't give back through market retrieve tab and i didn't get silver too, it was stuck and lost and gone.
here are some pictures that to prove it.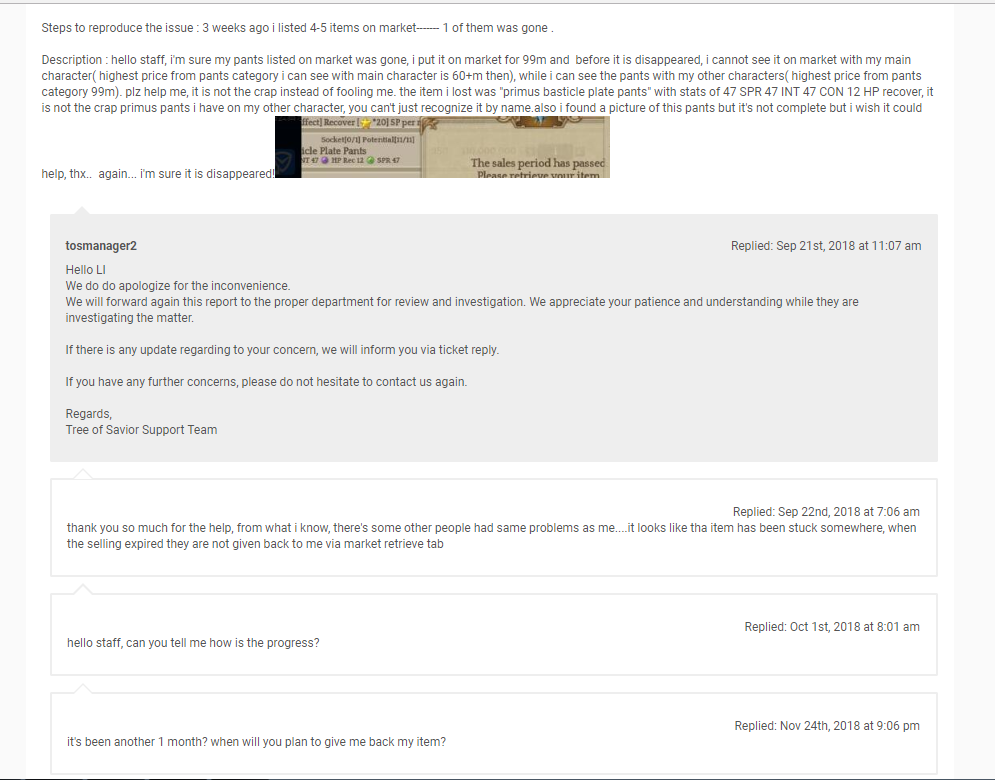 IMC staff just keeping ignore my post or reply with useless stuff like
" there will be furthur investigation" and shut down my ticket. while after ages there won't be any result to expect from them.
or fool me with the infinite silver problem, but actually my item disappeared few weeks before that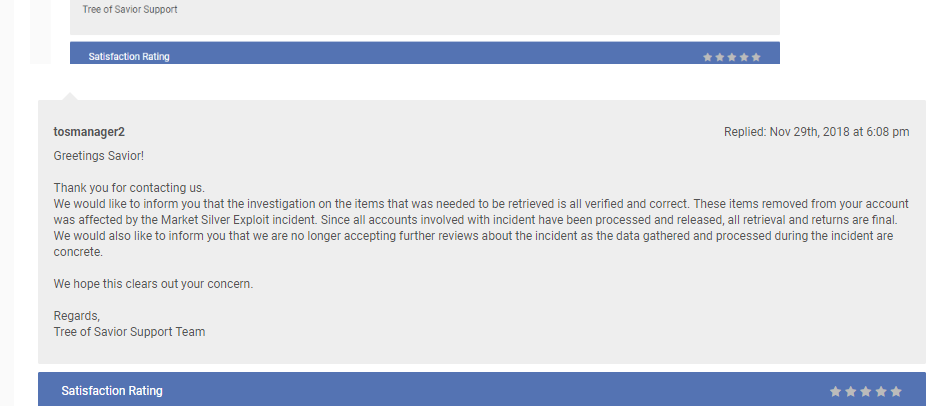 what, is this the investigation you promised to make???
all those things, bitergina card, ribbons, silver hack and much more, how many posts we have to post to make IMC aware of the problems? it's ok for me to play a game even it has problems, but it is really hard to stand the questionable attitude of how they deal with problems.
( i think i described the problem in details already, if anyone of you have the same problem: cannot see the item you post on marketwith the character you put it but can see with other chracters, then you gotta pay attention to it, make a video, screenshot or anything and start to send the ticket before it's too late, tho i doubt it will work.)