First, this post will be difficult to understand cuz my english is bad, so, good luck =)
What I understood about add. dmg. the stats add. a fix value in your final dmg. which can't be defended.
So add. dmg. resistance can defend add. dmg.? cuz I tried to use in monsters, and my add. dmg. resistance didn't works.
I thoght that the dmg were be same the value from Add. Dmg. but don't is. For a example, my dmg is 3.480 and I have 1,166 add. dmg, so my dmg was go to 4,763, so your bonus is 1,283 add. dmg. The value has a gain of 10%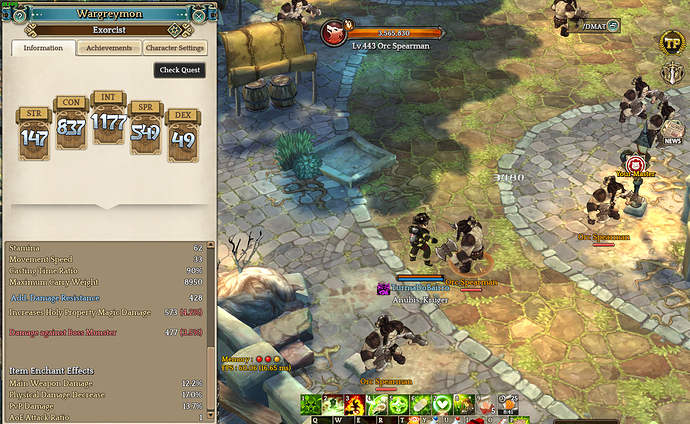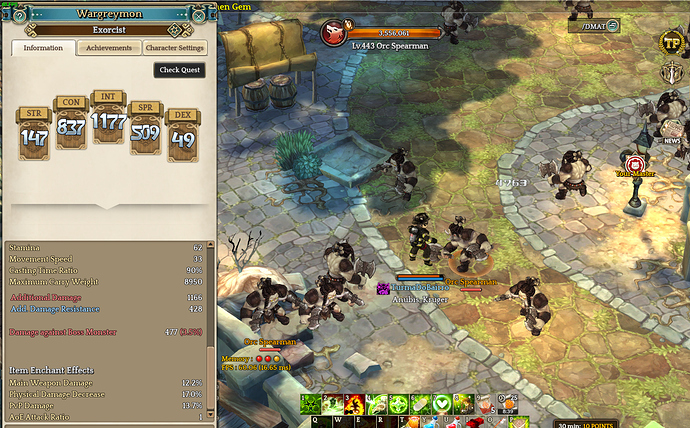 So if you have 20,000 add. dmg. your gain will be 22,000 in your atks. if I'm sure.
But the question is, why do we have this system if it is horrible to scale, I mean, today is very easy to got with a skill and booom, 10,000,000 damage, the cap. max … and to looking for this stats requires a lot of sacrifice, we usually look for an ichor of STR/INT/CON/DEX/SPR/Critical Rate/Evasion/Attack against "X", sacrifice one of these stats for per add. dmg. it seems crazy … but let's say we're in the wonderland, the most we can get is …
Neck: 5,000
Brac.: 22,500
Armor ichors: 4794
Mace and Shield: 2*1,489
Binatio: 19,200
Vaivora Chaplain: 1,500
Skia.: 2,261
Red Card: 150
Purple Card: 30
Fire Enchant: +/- 7,000 (don't work in weekly boss)
Blessing Shop: 3,300 (don't work with vaivora chaplain)
Total: 49,595 +10% = 54.554
Hits:
Double Punch (add hit dmg.): +2 hits
Aspergillum: +1 Hit
Last Rite: +1 Hit
Sacrament(shop): +1 Hit
Fire Enchant: +1 Hit
Cafrisun Set: +1 Hit (lol, I'm kidding)
Total: 6 hits
6hits x 54.554 = 327.324
Well, it is very hard to reach that value and you can just use a Bloosom skill and get 10kk easily, or crusader. Okay that add. dmg ignores the defense, but it's still a VERY high sacrifice to reach that value. It's a very poorly worked status where you don't feel your character grows.
It's funny, cataphract will has a vaivora that will buff the rush a lot of, increasing the ratio by 100% and give 2x hits of 24,000% and while the Vaivora chaplain the auto attack factor can grow up to 1,000% BUT, wait there, is 1% for every 100 add. dmg. that is, remember our calc? 48.095-3.300 = 44.795, remember that blessing doesn't count(maybe be is a bug, great news…), that is, the gain is *447% in the AA factor, and it is really difficult to reach that value. While the SR, just gains + 200% in the fact of AA and + 40% atk speed, it's comic, I really don't understand what NEXON/IMC wants to do with the chaplain ._.
In real world your AA buff will be about (binatio 19,200 + vaivora 1,500 + Fire Enchant. I guess about 4,000 = 24,700) +247% auto atk factor.
*if you have Double Punch lvl 15 your calc will be (2x318%)+447% = 1.083%
The new chaplain's art is good, but it goes against the character's proposal
Another thing is funny, Monk/Inquisitor/Zelot are physical and the chaplain is magical, so… I need to do physical or magicial? the reply is obvius, ADD. DMG.!!! xD
An interesting art would be while Paraclitus Time is activated , you can attack while moving, that would make the class MORE attractive.
I love the chaplain, but it is hard to make it playable to do content more difficult, the class is very expensive to make the class "playable"…
When I see other vaivoras or the arts of the other classes, more I see that NEXON/IMC don't know what to do with the chaplain, chaplain is a duck, flying, walking and swimming, but it's horrible in all three things…
for me the stuff has your favorite class, and don't give attection for others classes
I honestely don't know what that NEXON/IMC can do for the chaplain
details, Aspergillum is unique skill that has "enhanced upgrade" why the others skills don't has? They has afraid that chaplain can be overpower? hahah xD
Or add. dmg. is a great stats and I can't see it?
Tips:
You can stack Visible Talent with Ataka or Emphatic Trust