Hello! This is Selenelions, former Vice Guild Master for [Klaipeda] TOS Support Guild! We've decided to make this thread to post occasional updates and fun goings-on within Klaipeda's TOS Support Guild!
TOS Support Guild is a Guild created by GM, and most new/returning players are automatically enrolled. Elected Vice Guild Masters are responsible for managing/maintaining TOS Support Guild. If you are playing on [NA Klaipeda], [NA Klaipeda] TOS Support Guild is a community open to all players! Feel free to join our guild or just hangout with us. We look forward to seeing you in game, on our Discord server ( https://discord.gg/MUN8cWWf8M ), and here on the forum!
Current Vice Guild Masters:
Sasy
Goukii
HikaGeGe
*If you are enrolled in TOS Support Guild and would like to leave, open Guild menu with Alt+G, find your name, right click, and "Leave Guild". (Note: to scroll through guild list you may need to use mouse wheel)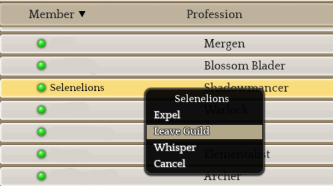 **future VGM, if you'd like this post edited, feel free to message me!