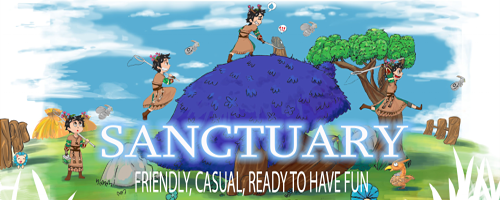 banner done by Castrophone

Salutations saviors and passerby's alike, welcome to the introductory thread for our guild Sanctuary. We were founded in December 2017 and have been blessed with with a community of veterans, friends, and new recruits.
We're happy to state that we're a guild that's focused on nurturing new and returning saplings to Re:Build. The hectic amounts of reworks and information can sometimes be daunting but we hope that you'll have us along side you on your journey.
Find us on the recruitment board, or feel free to PM one of our officers, AzuraSkyy, Mirie, Zanadal or myself TM27.
While we primarily focus on Tree of Savior card parties and guild raids, we aim to have stream nights, raffles and events. As the community grows and shapes itself we one day hope to tackle the competitive scenes, keeping to the laid back and humorous nature we were founded on.


banner done by Mirie
To the good people who have come and gone, the memories of you still resonate from time to time. Whether it chimed good or bad I'd like to thank you for the time we've spent. As some heed the call to a busier time of life, or simply move on from Tree of Savior. I wish to thank you for your kindness, love and passions that you've shared with Sanctuary.
Dear Savior, whom I may not know yet. I wish to offer you an open hand and welcome you to the fray. If not, I pray for your happiness and success regardless.
TM27