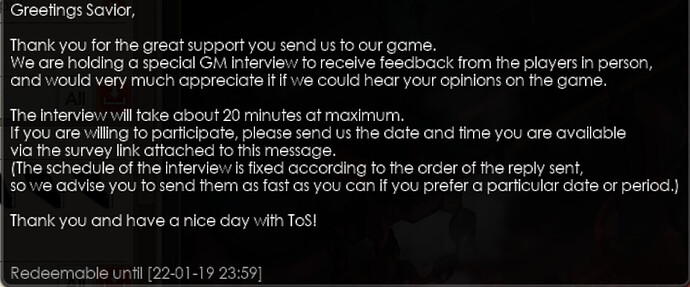 I have heard rumors of IMC sending a certain in-game mail to seemingly random players across all servers (not me) informing them of an opportunity to have a 20-minute interview with IMC in the near future. With the current state of the game and its player population at the moment, such an interaction is probably initiated on their part to contemplate on their next steps forward, steps that require the player's opinions to proceed. If such, this interview may serve to gleam on IMC's intentions on the game's future which would be really uplifting for the player base to hear … or may break the community apart for good.
I make this thread to ask any respondents of these in-game mails, not to ask what answers they give or when their scheduled interviews are for hijacking purposes (LOL), but if they could simply share what questions IMC asked in the interview on this thread so that we may understand what IMC is planning going forward and where they have set their sights on.
This special interaction between player and staff is probably the first time in a very long time since a player had an opportunity to interact with the staff (beyond Meet-and-Greet GM sessions and the now-defunct ToS Magazine, IMC only had like very few interactions on forums and it was only in the early days of the game), though this interview may very well be just a sham with nothing noteworthy to discuss.
Regardless, I hope we can look at the questions and have a civil discussion about them instead of wasting our energy with forum posts discussing the game's fall that IMC will probably never read.
(If the questions are supposed to be confidential then I'll stop asking and will close the thread down)