Edit: I was able to narrow down the cause of this problem. Explained in this post: Game not starting - can't access "system" folder
Date and Time(Please, specify the timezone) :
12.06.2020
Issue has been persisting over the past few weeks.
Server Name:
None, as the issue occurs before server selection.
Team Name:
Eillis. (Doesn't matter anyway as the issue occurs before game start).
Character Name:
None. Issue occurs before game start.
Bug Description :
I am not able to start the game at all. When I try to start the game, game process shows up for a brief moment and shuts down right away.
I noticed that I have a few "Info" folders with files in "TreeOfSavior/system" folder, to which I have no access rights. I am not able to delete these folders. Inside these folders there are a few other folders which I can't even open (all on screenshots).
It seems that these folders with permission restrictions are preventing me from starting the game.
Changing folder/file permissions does nothing. I have "full control" permissions set for these folders.
The only way I have, to temporarily fix the problem is using a special program (Unlocker) to delete these folders at system start.
After I delete these folders in this way I am able to start the game.
This solutions sometimes works only once. After I close the game, the problem comes back right away. Sometimes the problem goes away for a few days or a week. Eventually it always comes back though.
I have no similar problems with permissions with any other software I use on my computer, not even the ones that require administrator privilidges to run.
Steps to reproduce the issue :
Double-clicking game icon to start game. Nothing happens.
Screenshots / Video :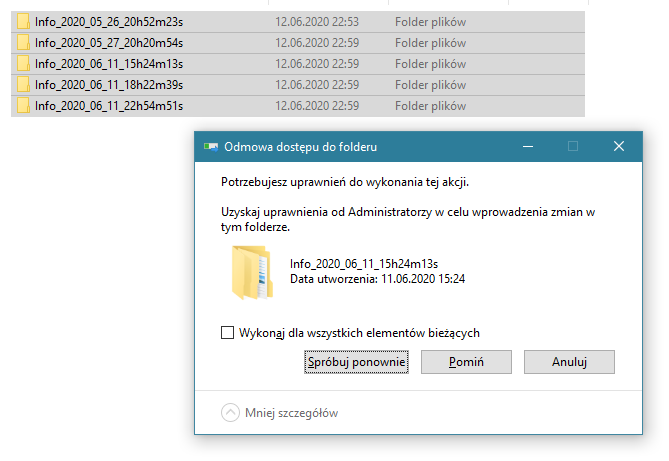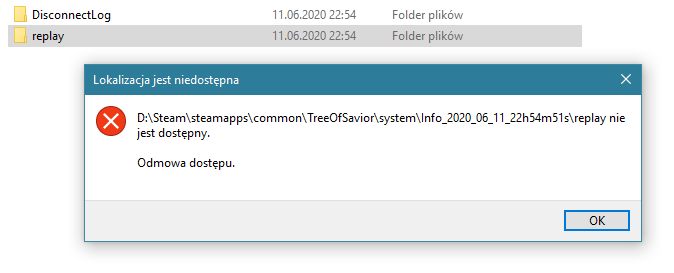 Screenshots are in Polish, but I am sure that you can recognize the popups.
One says that I need right permissions to modify the folder.
The other says that folder is inaccessible and access is denied.
System
OS : Windows 10 Pro
Country, Region : Poland