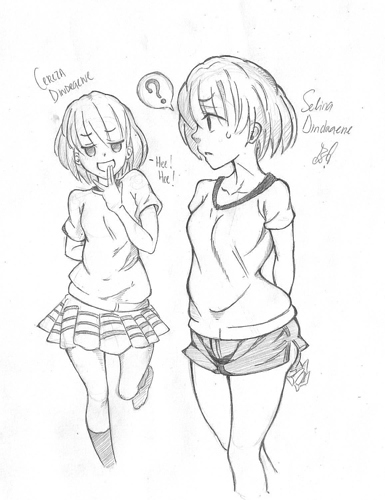 Dindraene's Family - Short Story 2
It was a pretty cold morning in Orsha. The city was crowded, principally at Plaza, around Ausrine's Statue. Lots of Pardonners and Squires, some people duelling and the new Saviors listening the words of Lady Inesa Hammondale in front of the royal castle.
Selina and Cereza were walking along the streets of that overpopulated city. The necromancer, Selina, was kinda annoyed for staying there. She dislikes the crowd so much, but unfortunately she was needing to buy new gears for her new journey and help her little sister to buy some items (and don't spend all her money with silly things).
C'mon, Cereza… - said Selina, with a tired voice.

Just a bit, Sally! - asked Cereza, excited. - You must need to see those dresses! They're so cute!
Selina give a look to the store of Leticia. She agreed there were beauty stuff but they're so expensive.
I don't have money for this, Cereza - sighed. - And you have even less!

Jeez, Sally… - it made her sad.
Cereza walked away, sorrowfully. Selina followed her closely. Passing a few time, the necromancer became sorry for making her sister sad. She loves her but needs to show her how the world is after Medzio Diena, all the caos and the advent of Giltine.
Ciri… Look… - started Selina, disconcerted - You must need to understand…

I MUST? - interrupted Cereza, turning to her sister. She was angry. - You said that. Now, called me with this old nickname that you had said that never would use again because you became mature after turned into a necro!
Selina raised her eyebrows, surprised. That was a problem when she decided to be a Necromancer because everyone was waiting for her to become a Elementalist for the third time.
To become a necro makes me understand how death is a strong and dangerous power - said Selina, rubbing her eye with her hand - Elementalists are the big deal for the wizard crowd… but not for me. I learned how to bring life from the death but also learned how painful is to lose who you love…
Cereza changed her expression. Who her sister loved and lose?
At Vedas Plateau, I met two necromancers, Lemija and Faustas. This last one lost his love, a cryomancer, and… he… tried… to bring her back - told Selina with low voice.
Loretta Nimbus, the Necromancer Master, asked for her and Lemija to keep secret of that case.
He… did it? - asked Cereza, disturbed.

Unsuccessfully. - answered Selina, thoughtful. - For… one instant… I put myself in his shoes. - She gave a long look on Cereza's face and gulped.
Cereza froze for a second until start to say slightly clumsy:
Yo-you never will lost m-me, Sally. I'm strong and… strong!

I know you are! - agreed Selina with a half smile - And I'm so thankful and proud you are a peltasta! - said while touching her sister's hair - There are shields and High Guardian - Thought.

Hee-hee, you dumb gravedigger - laughed Cereza, hugging the old sister.

And I think there's no problem to buy ONE dress - added Selina, cuddling the little one.

YAY! - Cereza raised her arms. - Let's go back to Leticia! Hurry, hurry! - said her pulling her sister along the street.

Hey, calm down, Ciri… - Selina's voice silenced abruptly at the final.
Cereza stopped.
You can call me like this again… If you want…

Thanks, Ciri… Now I think… To be mature is love and stay beside you.

Ownt…
They walked a little till they were just few steps from Leticia.
You know. You look slightly sassy with this mini-short - whispered Cereza, slapping Selina's ass.

CEREZA! - told off Selina, it was really loud. Quickly covering her own mouth. Her cheeks were burning with shame.
Everybody on street were looking to them.
It's true! You have a nice booty, but usually you just wear that morbid necro dress and…

Ciri! - interrupted Selina. Talking while covering ther mouth with hands. - I'll lock you in your room with my Shoggoth… - warned.

What?! NO… Why?.. - asked Cereza, surprised. She was praising her.

Just take your damn dress and let's go home! - said Selina, covering her own face with one hand. - I'm missing Alemeth grind now… I don't believe it!
[Written by: Behemoth!]
(I dare you, Savior, to write a short story of your characters)