an update where imc should`ve been able to invite more players
turn out to be event where players are losing faith toward the company
well done imc, well done
those who already left maybe laughing right now. "told ya" they said.
will you still buy cubes?
in imc whiteknight defense you should buy cubes so they can pay for fix.
fuk that logic. i won't pay for broken stuff or bad service.
i got money from hongbao and if the game give me pleasant moment i would've spent it here but sorry not sorry, NO.
not even with that lv7 boruta which is just a tease when they gonna sell lv9 one lmao.
the game is f2p and if the game have to be subscription type so be it but my standard, and i believe many as well, of how this game managed will be even higher.
you can't even call this current state of management decent
I wouldn't be surprised if level 9 one is part of anniversary event along with the free vaivora exchange.
and later on lv10 boruta
cause every whale will need it to craft giltine card
maybe lv10 will be premium package one, only for selected whale
source:dude trust me.
Based on their recently posted patch notes, seems like that's a no.
They didn't even bother to acknowledge it as an ongoing issue and are likely never going to admit any fault for it.
(Yes smarty pants, I know that they already made other posts about it. However, addressing the matter, and even just apologizing for it helps a lot).
TL;DR
Servers are on fire, here are the ongoing events, here are the closing events, oh and don't forget about Leticia people!
Look at this … hahahahaha, better news. Really?
Needless to say, the company's level, IMC has the luxury of showing how it is …
so it's like
"we can't guarantee a fix for server issues, so we won't included in our patch note (but if it suddently gone, praise us more!)" huh?
The fact that this maintenance does not take longer than the usual maintenance pretty much shows that the bug would keep being ignored because IMC is totally incapable.
Auto Que bug is actually slightly tolerable, but that chat bug is 100% unacceptable.
It ruins guild communication, shout, trade, recruit, party chat,
The thing that is blowing my mind is… this was fixed in KToS. Does NA version just have an unsupported code license and sucks to be you from the Korean version? I just paid 19.99 to a company that has Very Positive Steam reviews both recent and overall. Maybe their game works. If this thing works in the morning I'll probably be back. - Love, olcerin/klaipeda 21k+ hours and too many gachas to remember.
Or didn't happen there because the servers have different configuration.
It's probably not getting fixed any time soon so don't hold your breath, but if you're an IMC white knight whale please do hold your breath.
the answer is as we all have guessed
NO!
the funny part is 90% of playerbase that vote lose faith of you team. its not surprising at all.
they wont mention it in patch note straightaway because they cant promise a fix, and why they cant promise a fix because they are incapable of fixing it.
there wont be enough exp tome to compensate this bs.
But 1 Ark and 1 Vaivora of our choice can somewhat compensate for this hot mess imho.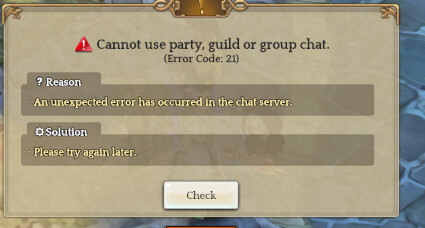 HERE IS THE ANSWER UR COMPENSATION IS 5 exp tome crap. is literally FCK U FROM IMC TO PLAYERS
or they actually don't give a ■■■■ about IToS players and treat us all like second class citizens. sure looks that way from my point of view.
this ain't the first time it happened. it happened in RO too.
sorry i dont even bother patching or login cause i think im just sick of, not the game, but you know.
please blame me for not buying your cubes.
there will only be 2 option in the end here, the game fixed or the game is finally ded.
there are still retards that give them money for cubes, so why should they care to fix soemthing?