After several attempts to open tickets and no concrete answer about removing the TP limit I can only try some concrete answer here.
Let's get to the case!
I started playing TOS in 2017 and made some purchases and at this time my account had no in-game TP spending limit. However I returned now in 2019 due to the return event and invitation of some friends.
I joined Steam downloaded the game, installed and played for a while, made some purchases and so far no problem, but when I went to buy the items within the game I discovered this issue of the limit that asked me to open a ticket to request the removal.
I opened several but mostly with automatic responses, and after a long time went on my own to investigate the requirements to be able to get this restriction removed,
n my last ticket with all the explanation of everything I found through research because from the moment you download the game until the checkout there is no warning about this limit and the criteria for its withdrawal.
But the biggest reason I came here was due to the last response from my last open ticket below.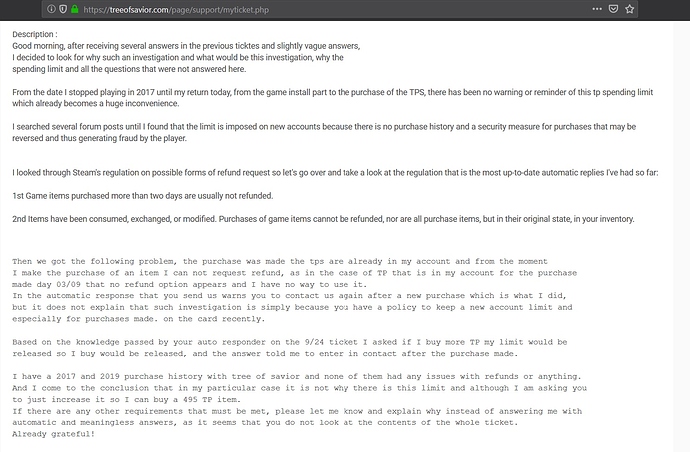 In short, I made the purchase, it was debited, I have TPs in the game and I can't use them, and the requirements I have to have to remove the restriction can not be provided to me for my safety? Is this really serious?