House Name: Graveto Land
Team name: Gravity_Falls
Server: Silute [SA]
Hello! My team name is Gravity_Falls and this is my participation for the personal housing event.
I hope you like the photos and get excited to know a little more about my house personally!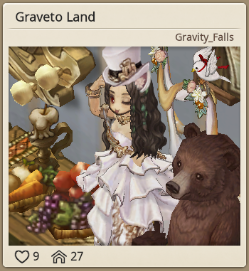 KITCHEN

The kitchen is where we prepare the best delicacies ever seen in this universe of Tree of Savior! With such a diversity of ingredients and recipes, there is always time for something new and delicious to taste!
LOUNGE

Here is where we can relax and chat with our friends about our adventures and experiences, after all, after so many missions, there are certainly stories to share!
BEDROOM

After a long day of battles and intense experiences, here is where I can rest and recharge my energies for the start of a new adventure!
Finally, here is a full view of my house

Everyone is welcome to visit me and shooting the breeze when you feel like it!
I am always with open arms to make new friends and share experiences!