First a quick thought on Rank Resets.
They have been a hot issue from the beginning all the way up to the form that got implemented eventually due to the huge demand (and if I'm not mistaken, they are still seen as somewhat controversial by some palyers, or?)
Regardless, at least to me they never felt like a real solution.
Yes, they address the issue, and they work very smoothly on a technical level, and now that they exist, they are a super convenient way to calm people down whenever there is big balancing changes… but they don't fix the actual issue in the long-term and bring with it a bunch of other issues that don't feel natural to the gameplay.
The biggest concern people used to have in regards to RankResets, was that it can be abused to conveniently change a build optimized in leveling into a build that would otherwise be a pain to level.
To avoid strawmanning I will flat out concede that this is not really an issue anymore, due to how easy leveling has become over the years, as you can now get an alt to 300 in a few days without bothering to gear them up with anything decent, or distributing any of their stat points… you can easily keep getting pardoner-buffs and autoattack your way through a majority of the game up to the last handful ranks.
Nonetheless… I would argue that Rank resets are merely a bandaid that needs to keep getting repplied over and over, while feeling like a cheat or an officially sanctioned loophole to the originally intended system. Firstly because of how instant the change is, and secondly, sure, you can fix your build if its broken, but after using the Reset you have the exact same pressure to get it right this time as you had the first time…
On top of that, they are a very desirable thing, while at the same time being distributed on "special" occasions in some arbitrary amounts. It just creates this huge unnecessary turning drama-wheel of people having to keep begging for them and the developers having to keep considering how many and when they will make them available… (and for someone with over 30 characters, it's always a big hassle to having to overanalyze which characters to use however many Resets we are getting at that time…)
And just for me personally, out of all the times I've made use of Rank resets, I figure that at least over 30% of the time it was to revert a build back to something I had before I used a Rank reset on them the first time xD…
With that said, let's consider: What is the actual issue the Rank resets are trying to address?
The issue is that Tree of Saviors Rank/Class system as it is, has always been contradictory.
On one hand, it has a huge diverse selection of fun looking classes to play.
I've seen it every single time I introduced someone to the game: as the new player reaches new ranks, they see the class options opening up to them, and they get excited and want to play around with them.
On the other hand, there is as I mentioned a sort of ever-present pressure to not ruin your build by wasting any number of ranks on class-circles that don't work well with everything else in the build, bring some of their own restrictions with them, etc.
In my mind, the optimal state of TOS would be one in which you don't have to worry much about making dumb choices out of curiosity as you progress with your characters.
One way for that to be possible, would be if you could change your mind on any part of your build, and had the option of working towards changing it.
At this point it's worth bringing up a more recent feature that I felt was a small step in the right direction:
The class rollback System.
Basically, you can abandon your current circle entirely, going back to classlevel15 of the previous rank, being able to re-pick your class for the lastest rank. (of course losing any class-progress you had in that rank before abandoning it).
On paper it sounds like a perfect way to allow players to experiment with any individual rank, being able to abandon it before they get too deep into it, if they realize it is not what they imagined it would be.
It doesn't help in that regard at all however, due to a number of restrictions for using the class rollback. You can only use it once per Rank, meaning you have one shot at trying something for fun, and then if you abandon it, you have to be sure that the 2nd time your pick will be the better choice.
And even more importantly, this feature doesn't in anyway allow you to change any earlier ranks that you might feel were a mistake or simply find you aren't making use of at all anymore.
So while also severely inefficient at addressing the issue at hand, mostly due to an overkill of restrictions applied to it, at least this feature doesn't feel like a cheat, because it stays within the "rules" of the game so to speak (you still have to grind the classlevels for the newly picked classes)
And now I get to my proposed solution to it.
Right now, we have a single "Class Level" that starts with level 1 and caps at 15.
In other words, whenever you advance to the next Rank, the maxed ClassLevel is replaced by a new one for the new class or circle…
Step 1: Keep individual Class-Levels for each Rank.
Meaning, on a Rank4 character, you don't just have the classlevel for Rank4, you also have 3 Classlevels corresponding to the past 3 Ranks (which would normally all be at level 15 at that point).
Step 2: It is possible to pick which Rank is your current active rank. You can only have one Ranks Classlevel active at any point. A Rank being "active" simply means that the Class-EXP you are gaining are all going into the Classlevel of that Rank, instead of any of your other Ranks.
Step 3: You can abandon ANY of your Ranks at any point. Meaning, you can pick your Rank3 class, decide to abandon it, pick one of the other class-options available at Rank3, and have that Ranks Classlevel drop back to Classlevel 1.
(naturally, for Classes with multiple circles taken, you would abandon multiple Ranks, one of the reasons being to avoid having to reset skills for the entire Class anyway)
So abandoning a previous Rank means you can replace it with whatever else you could have chosen, with the consequence of losing the EXP you originally invested into that rank.
You can then decide to make Rank3 your active Rank, and regrind the classEXP for it whenever you like. You could take a break at Classlevel 7 and continue grinding your highest Ranks classlevel for a while before activating Rank3 again and finishing it.
Step 4: Set fixed EXP-penalty roofs for each Rank.
The point being to prevent you from "regrinding" the lost EXP extremely fast by grinding mobs of your current level. You would have to go back to an area with mobs that are somewhat normal for that specific Rank. Of course being an overpowered R8 class and having your 300+ characterlevel will speed things up quite a bit when you're slaughtering those lv50 mobs for regrinding your Rank3 classEXP, but the aim here is to make you do have to at least do something to "earn" the newly picked class.
Step 4b: Define "Ranks" for maps and dungeons.
Obviously optional to the implementation of this, but it would certainly make setting the Class-EXP-penalty relating to Ranks a lot easier, and also make it obvious what maps to go, or what low-level instance DG to join, when trying to regrind which Rank.
Step 3 Clean Up: Redefine Circle2 and Circle3 as extensions of the Class itself.
If you are a Cleric, reach Class15, and then pick to continue Cleric for another Rank, instead of the classLevel going to Classlevel1, jsut make it go to Classlevel16 with a new cap at 30.
Same for the final circle, 31-45.
Just to make things simple, and to get rid of the term "circle" altogether, because I swear 95% of the players don't get the difference between ranks and circles and use them interchangeably any way…
And that's pretty much the suggestion I have. I tried to boil it down to the essential parts, with the aim to come up with a permanent feature that feels like an inherent part of the games class system, rather than a special occasional handout of a loophole-item that breaks the RPG-narrative of building your character and only works as a limited instant fix in short-term.
I know I wrote a wall of text…I'll see if I manage to create some visual examples of the idea presented to make it easier to imagine.
EDIT:
Here is an example of a build that was Wiz1-Wiz2-???-Cryo1-Wiz3-Cryo2, that paused at Rank6 class12, decided to abandon whatever they had at Rank3, and picked PSychokino1 instead, and are now leveling that up instead of their Rank6.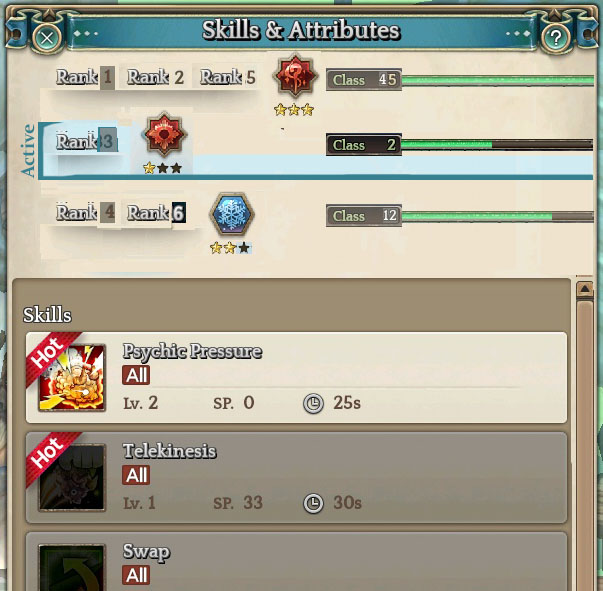 I know it looks like crap, it's not meant to look perfect, just a quick example with copy-pasting of a screenshot lol, but it should get the idea across.