Date and Time: Always
Server Name: Telsiai (SEA)
Team Name: Laltna
Character Name: Karna
Bug Description :
When I wear Red Evil Wings, some of it's part overlapping with Goth Loli hairstyle. However when I test it with other hairstyle in a Beauty shop, it seems normal as usual except Choppy Bangs hairstyle that has the same problem. Maybe just only me? I wonder
Steps to reproduce the issue :
Change your hair to be Goth Loli & Choppy Bangs hairstyle.
Wear Red Evil Wings.
Screenshots :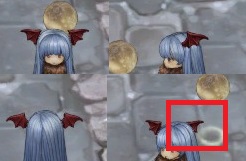 System
CPU : Intel Core i5-8600 3.10 GHz
RAM : 16.0 GB
Graphics Card : NVIDIA GeForce GTX 1070 Ti
Mainboard : Z370 AORUS ULTRA GAMING 2.0-CFcf
OS : windows 10 Pro
Country : Thailand