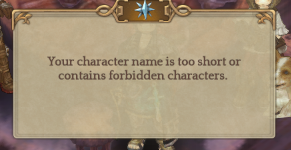 I can't come up with a decent or even random name, how to solve it?
try something other than ■■■■■
I'm having similar problems here. I tried countless names, foreign words, and even tried inventing names/words.
select the 32 bit client when launching
Also tried 32 bit. Still doesn't work. I even tried Potatoes, Kindness, or add numbers to it. Nothing works for me.
Try typing your name in Notepad and copy/paste it into the name field.
it says that any name I enter already exists or has forbidden characters