Okay, I think is is something a lot of people having trouble understanding, me included.
I have no ideia why should I even bother leveling up Bunshin no Jutsu skill after level 3 or Mokuton no Jutsu after level 1. Seriously, raising those skills any further in the CURRENT update is just stupid and a waste of skill points. It doesn't add nothing to the skill at all. Either way, I don't know if the in game skill text was translated wrong or something but it is just pathetic.
1 - Bunshin no Jutsu clone numbers caps at 3. Post level 3, raising the skill level will literally NOT GOING give any benefical effect to the skill itself or to the player at all. The only thing it raises are the cooldowns and SP cost. REALLY? No increase in the clones duration? No increase in the clones damage? No increase in the clone numbers from 3 to 4 or 5? No reduction on STA consumptiom? No reduction in the skill cooldown? NOTHING, it just worsen the skill. JUST A 100% CHANCE OF REMOVING A DEBUFF AND THATS IT.
I'm talking for real here, I've tested the ■■■■ out of it. The clone at skill level 1 deals the exact same amount of damage than the clones at skill level 10. Raising the skill above level 3 is just a waste of points and it will make the clones dissapear faster because the increase in STA cost, it will also increase the cooldown times of every copyable skills that are used during Bunshin no Jutsu. PATHETIC!
2 - Almost the same thing happens to Mokuton no Jutsu. The skill level goes all the way to 15 and all it does is just increase the duration of the skill activation to a max of 90 seconds. No increase in the damage. No increase in how may times you can activate the skill before it enters cooldown. No decrease in cooldown time. No other a temporary effects like an Evasion stat increase or Cloaking buff. NOTHING. It does't even decrease SP cost. WHY SHOULD I BOTHER RAISING THE DURATION OF THE SKILL IF I CAN SIMPLE PRESS THE BUTTON JUST RIGHT BEFORE TAKING THE HIT???
THIS DOESN'T MAKE ANY SENSE AT ALL. Raising Bunshin no Jutsu above level 3 will literally just increase its nerf effects.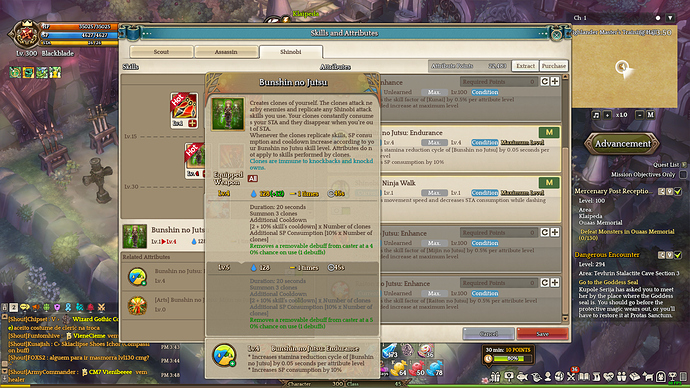 Anyone has an explanation for that??? Or it is indeed a waste of skill points?