Date and Time(Please, specify the timezone) : 07/28/2020 (GMT-3)
Server Name: Silute
Team Name: Sixtrun
Character Name: AaronTribal
Bug Description :
Well, today, I was playing Tree of Savior normaly as I always do, and I managed to buy a new Weapon for my "Retiarius" class. After equipping the new weapon, I opened my character stat window to see how was his physical attack stat and to my surprise, I notticed that his attack was extremely bellow the normal (Before the maintenance, his attack was something like 22.000 - 26.000, and after, it dropped to 14.000 to 18.000). Also, after swaping my weapons a couple of times I noticed that my physical attack stat was going down each time I swaped them, until it reach 1 - 1 with both weapons equipped. And that was not just a visual bug, it really affected my attack power when I attacked the monsters, I even noticed that, when I participated into the weekly boss challenge and barely caused her any damage… Does someone else has this or some similar problem after today maintenance?
(Check the youtube video bellow)
Steps to reproduce the issue :
Open the character stat window and inventory
equip both main and secondary weapon on both slots (1 and 2)
Start swapping weapons between 1 and 2
See the physical attack stat going down until reachs 1 - 1.
Screenshots / Video :Preformatted text

(Video comproving the bug)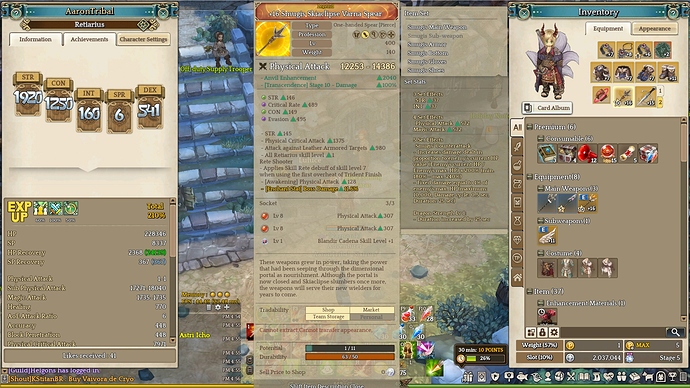 !
Game Control Mode (Keyboard/Joypad/Mouse) : Mouse and Keyboard
System
CPU : Intel ® Core ™ i5-6267U @ 2.90GHz 2.90GHz
RAM : 8.00 GB
Graphics Card : Integrated Intel Iris Graphics 550
Mainboard :
Storage : 256 SSD
OS : Windows 10 Home
Internet Connection : 300 MBs
Country, Region : Brazil