Hi, I'm writing this post because I'm very disappointed with the way how IMC handled the swordsman tree in the last patchs.
Since the RE:build I see myself coming and leaving the game and the reason for this is that I love the Tree Of Savior, it's a unique game, unique playstyle and unique visual, beautiful arts, maps, songs. Everything related to his identity as MMO/RPG is amazing. But, when we start to dig through other aspects of a MMO/RPG game, like their roles, formulas, stats, advantages/disadvantages, etc… being briefly their "numbers" it's a completely mess.
This Game feels like it still in beta. I never felt like this game was ready to be played. Because the way IMC tries to balance things in their majority it's through SKF and Cooldowns increase/reduction. They "balance one, two, three classes" and them move forward to the next group and do the same thing on them and then, repeat this process over and over again, and when they end. The Game stills unbalanced… because the first group balanced is weaker in comparison to their latest group balanced. And then, they repeat… It's cyclical…
This game has more balance patches than a competitive e-sports games that made those kind of changes not because they need, it's just to keep the game attractive when a season ends.
Let's start from the beginning
##########################################################################
FIRST TOPIC
##########################################################################
If we look at in-game help section and scroll down until "Combat > Incompatibility". We'll this: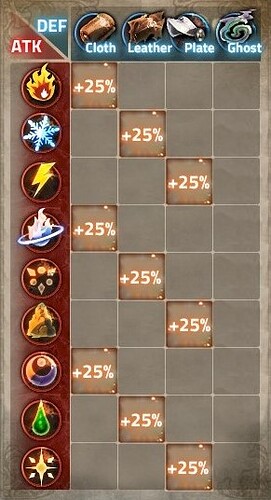 9 Elements split in 3 Groups
First Group - Fire, Ice and Lightning
Second group - Psychokinesis , Non and Earth
Third Group - Dark, Poison and Holy
Magical Incompatibility works much better than the Physical Incompatibility and I'll tell you why.
Mage Tree in now days have a good synergy between their class tree, they don't have any weapon type restriction and they don't have any skill/buff/passive (in other words steroids) that can't stack with other steroids.
Now, looking at Physical Incompatibility: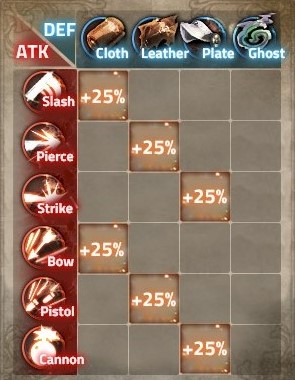 Looks like we've two groups. Melee and Ranged, right? WRONG!!
Ranged Attacks has their advantage related to their weapon type, you don't have a restriction based on the damage type from their skills.
I like that, is much more easier and less technical to balance instead of have Arrow, Projectile and Explosion for example… You wouldn't have to put a single skill with a different type of damage than your weapon would theoretically deal like happens with melee classes.
Melee Classes have their advantages based on their damage type(independent of the weapon they are using) which is based on the skill that was used.
Would be better if it was something like
Dagger +25% against Cloth
Rapier+25% against Leather
Fist +25% against Plate
Spear +25% against Cloth
Sword +25% against Leather
Mace +25% against Plate
Just to give a example of how this can create more synergy… My Sorsha Hutton card (+10% pierce type damage) could improve my Disarm skill which is a strike damage type skill but requires a spear to be used…
Hoplite has been picked as steroids for Nak Muay for example, which is completely non-sense but it's cool, because I'm buffing the damage from spears, not from "pierce property".