Date and Time(Please, specify the timezone) : 9:05 Server Time, 11/09/2019
Server Name: Klaipedia
Team Name: Grimnirs
Character Name: Nerd
Bug Description :
The ARTS "Omikuji: Financial Fortune" should give both critical rate and looting chance a 30-min buff. However, the critical rate buff ends after 30 seconds with the original buff. The buff granted by the ARTS does not increase critical rate.
( A side note, my critical chance seems to have decreased from the default 420 to 407 under the Great Blessing ARTS buff… )
( Another side note, the 10% chance for Great Blessing does not feel like 10% at all. It has taken me 57 casting of Omikuji to draw a Great Blessing at town. That is a ~0.5% event based on geometric distribution modeling consecutive Bernoulli trials. )
Steps to reproduce the issue :
Obtain the ARTS and use it
Cast a bunch of Omikuji until you draw a Great Blessing
Check critical rate after stats after the native Great Blessing buff ends
Screenshots / Video :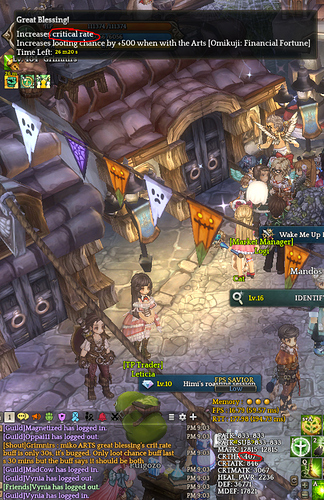 Game Control Mode (Keyboard/Joypad/Mouse) : Keyboard
System
Antique potato. I don't wanna talk about it.