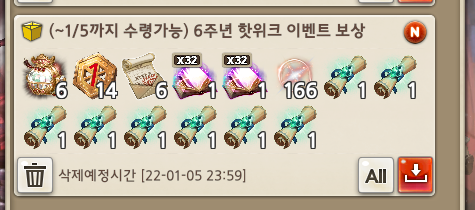 Are we worthless to you imc?
Oh damn! I'm jealous!
Still, are you sure that's a Christmas gift? I'm wondering why they would give someone 166 breaths of power, 6 goddess cubes and 6 reset vouchers specifically. It's such a strange combination of numbers. It almost looks kind of like some kind of personal reimbursement / compensation to me.
They're also in the middle of an anniversary event, so it's also possible it could have something to do with that. We don't get ours until… March, I think?
PS: Do you have any idea what those blue scrolls are? Are they goddess transcendence scrolls or something? That was my first thought.
Those are actually not goddess cubes, they are 'demon cubes' or something like that. They have a ton of old event costumes, demon temptation costumes/items and a bunch of hats. It also has the big Giltine wings and small Giltine doll as S ranks. Pretty sure everything in the cubes is untradable, and I don't think the hats can be dismantled for medals either.
About the scrolls, I think they let you unbind vasilisa gear from your character, allowing your gear to another character basically.
Thanks Zeu! And that's awesome. I could really do with those scrolls right about now
Also, thanks for the link – looks like it really is an anniversary event. I'm not sure what's up with those oddly specific numbers
I'm expecting iTOS will have its regular exp tomes next … x8
It's probably because it's their 6th anniversary.
shut up and give em your pesetas
That breath of purifier end up 166 kinda hilarious.
66? No don't be too cheap, 666? No it's too generous
let's just go with 166
This topic was automatically closed after 60 days. New replies are no longer allowed.