Date and Time: 29th December 2018, 5:00 PM GMT+7
Server Name: [SEA] Telsiai
Team Name: Fatalbern
Character Name: Alicefeeze
Bug Description:
After emergency maintenance regarding the dungeon count not reset bug, I tried to do level 180 Dungeon (Monument of Desire Dungeon)
Screenshots: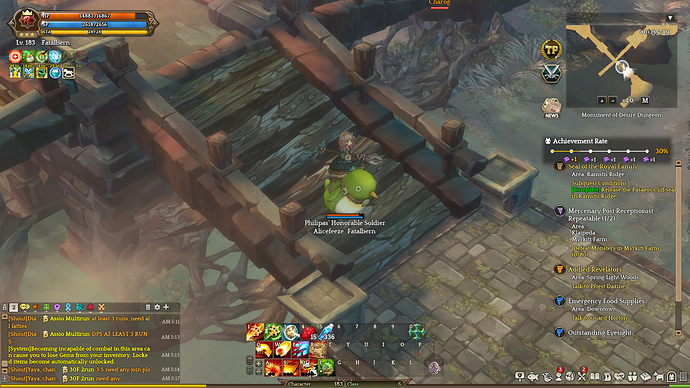 However, there is an invisible wall at the location described in the picture. (at the middle of the bridge)
I cannot cross it, my character keep running in one place like there is a wall in front of them.
Tried to re-enter the dungeon, no luck.
Tried to cross using jump or while mounted, no luck.
Attack go straight through but still cannot run across.
Thanks for this bug, now I cannot get 100% explore status for this map, which not really great for my OCD.
Please fix it as soon as your team can.
Steps to reproduce the issue:
Select and go inside level 180 Dungeon (Monument of Desire Dungeon).
Run to the location in the picture (southeast bridge).
Try to run across the bridge to land below.
Get stuck in the middle of the bridge, cannot continue to run torward southeast but can turn back. The rest of the dungeon is fine.
Game Control Mode:
Keyboard
System:
I doubt this is client-side error but oh well
CPU : i3-8100
RAM : 8GB
Graphics Card : GTX 1060
OS : Window