We are a competitive international guild in Telsiai server, and we are recruiting like-minded individuals who are passionate about the game. We're a tight knit community, like a family, and we participate in all end game pve and pvp content.
and we have women
Available slots: 13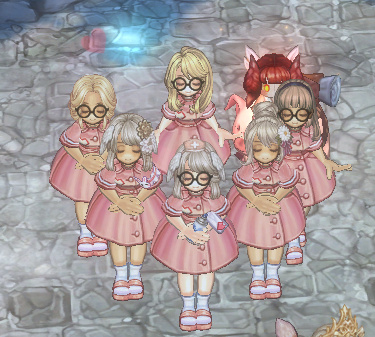 What we can offer~
1.) Teams for PVE Content
Here we understand the importance of having a solid team to tackle end game contents. Here at infinite we will do our best to put you in a team that we hope would eventually be your family while playing this game.

2.) Guild events with prizes and rewards.
We have an events team that makes events monthly in order to deepen the bonds of our members through team activities! We also have events to recognize a guildmember who has been exceptional or was acknowledged by people to be someone who is kind or helpful and award them a small token for being such a good example~.
Guildie of the Month~

Infinite Amazing Race
3.) The FAIR chance of getting seals from Boruta
We rely on each and everyone's effort to help us win a spot in GTW in order to do Boruta. Everyone in the guild has a role to play and everyone gets a fair chance of getting seals.

**We also have~ **
An organized guild discord server with guides and discussions.
A forever-active community in the guild, a "home", if you wanna call it as such. We will do our best to keep the guild active.
Requirements~
1.) Must have Discord! (We use discord as our main method of scheduling GTW and Boruta as well as to relay important information and announcements!)
2.) Must be lvl 450! (Because we need people who are ready to tackle end game raids and contents)
3.) Must at least have Varna equips~! (coz u know… varna…It's nice)


4.) Most important of all~ Must be active in GTW!
PS. Most most important of all is the ability to respect other people's cultures and beliefs. No to Racism.

If you're interested in joining please do PM me in-game Potato-Chan or via my discord BakedPotatoes~#0259! so we can get to know each other~
Our usual hangout spot is Klaipedia4~ Do come visit us there if you have any questions~