~Post under construction and translation~
Para fácil compreensão, palavras em NEGRITO estarão em Português e abaixo em Inglês.
For easy understanding, words in BOLD will be in Portuguese and bellow in English.
[GUIDE] Weapon Exchance System (PT-BR / ENG)
SERVER: Silute
TEAM NAME: Taeli
Olá novos jogadores (ou antigos), hoje vou mostrar um sistema que chegou com o EPISÓDIO 13 e que facilitou a troca de armas caso deseje mudar de classe

Hello new players (or old ones), today I'm going to show you a system that came with EPISODE 13 and that make easy the exchange of weapons if you want to change classes
Esse sistema consiste em você trocar uma arma que você tenha por uma outra na mesma categoria, ou seja, se eu utilizo uma ROD mas desejo criar uma MACE eu posso ir até o sistema e trocar essa minha ROD por uma Mace sem ter que criar uma nova arma e utilizar recursos como refino, transcendencia, gemas e encantamentos.
This system consists of exchanging a weapon you have for another one in the same category, if you use a ROD but want to create a MACE you can go to the system and exchange this ROD for a Mace without having to create a new one weapon and use resources such as refining, transcendence, gems and enchantments.
~MAS COMO EU FAÇO???~~
~BUT HOW DO I DO ???~~
Visite as cidades e fale com a "VAIVORA"
Visit the cities and talk to "VAIVORA"
Clique em "USE THE WINGS OF VAIVORA COIN SHOP" e lá será aberta várias opções.
Click on "USE THE WINGS OF VAIVORA COIN SHOP" and there will open a lot of options.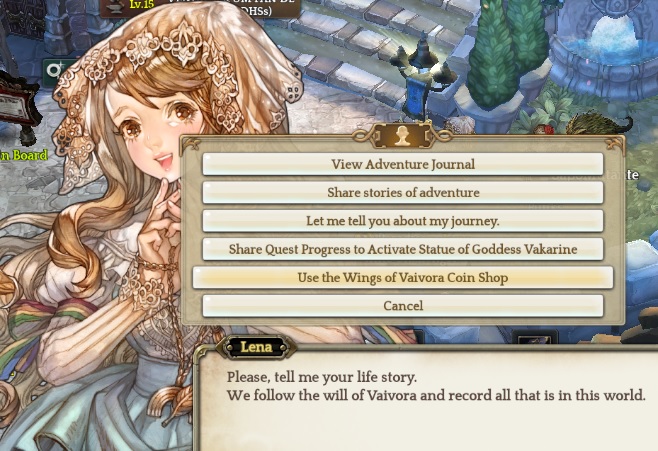 Clique na aba "PREMIUM' e vá até a ultima opção:
Click on the 'PREMIUM' tab and go to the last option: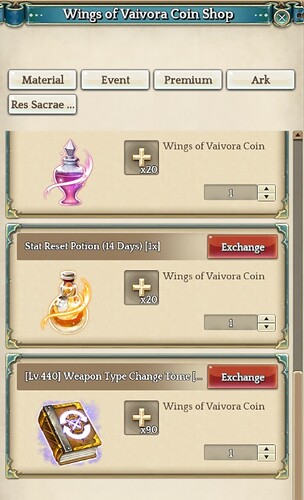 Você vai precisar de 90 Wings of Vaivora Coin que é adquirido diariamente ao conectar ao jogo.
You will need 90 Wings of Vaivora Coin which is received daily when connecting to the game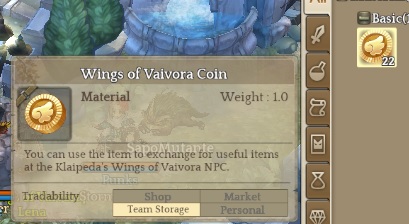 Feito a compra desse material você deve viajar até a cidade de Fedimian e encontrar o NPC NAUJOVES.
After purchasing this material, you must travel to the city of Fedimian and find the NPC NAUJOVES.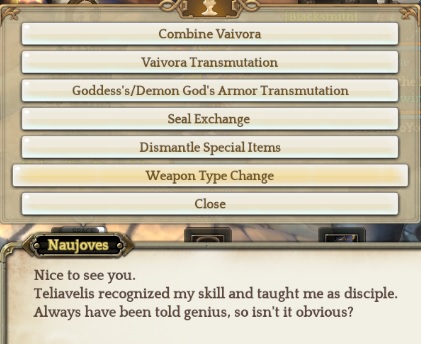 A primeira aba você deve colocar sua arma LEGENDA OU SAVINOSE DYSNAI estando com 0 de potência, lembrando que você deve REMOVER seus ichor equipados (SAVINOSE você deve remover apenas o ichor fixo).
The first tab you must put your weapon LEGEND OR SAVINOSE DYSNAI being with 0 of potential, remembering that you must REMOVE your equipped ichor (SAVINOSE you must remove only the fixed ichor).
Ao colocar sua arma irá aparecer uma janela de opções, você pode escolher a arma que deseja e confirmar.
When placing your weapon a lot of options will appear, you can choose the weapon you want and confirm.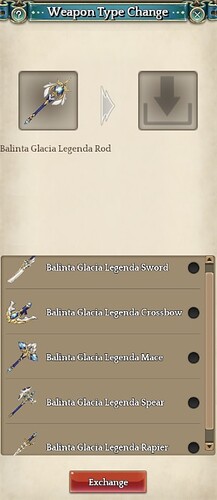 Lembrando que seu item continuará com seu nivel de Trans, Enchant e Refino.
Remembering that your item will continue with its level of Trans, Enchant and Refining.
Alguns itens só podem ser trocados pela mesma grade sendo eles:
Some items can only be exchanged for the same grid:
Armas de uma mão: One-handed Sword, One-handes spear, One-handed mace, Rapier, Rod e Crossbow.
Armas de uma mão: One-handed Sword, One-handes spear, One-handed mace, Rapier, Rod e Crossbow
Armas de duas mãos: Two-handed Sword, Two-handed spear, Two-handed mace, Bow, Cannon, Musket e Staff.
Two-handed weapons: Two-handed Sword, Two-handed spear, Two-handed mace, Bow, Cannon, Musket and Staff.
Sub-weapon: Dagger, Pistol e Shield.
Sub-weapon: Dagger, Pistol and Shield.
A trinket infelizmente não faz parte das trocas sendo impossível trocar.
The trinket unfortunately is not part of the exchanges and it is impossible to exchange.
~
~
~
~
~
~
PRECISA SER CONFIRMADO mas ao chegar no nivel 454 você receberá um livro de troca de armas grátis, mas ainda não tenho certeza se isso foi um evento do episódio 13 ou se ainda está disponível para todos os jogadores.
IT NEEDS TO BE CONFIRMED but when you reach level 454 you will receive a free weapon exchange book, but I am still not sure if this was an episode 13 event or if it is still available to all players.