Dear IMC, I believe someone of your staff already thought about it, but may don't know the danger of it.
I'm here to talk about players disabling other players in the Forum, for no reason, using the "flag machine".
Here what happens:
If you flag someone numerous times in numerous comments, this player will be blocked from the ToS Forum. I don't know how much comments you need to do it, but if someone is constantly flagged, he will receive the message below: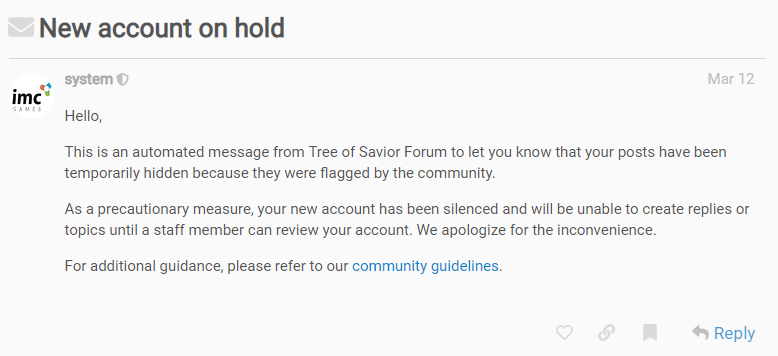 And then, will not be able to do something again in the forum.
At the beggining, it appears good, mainly to purge some people with really bad words, but it's actually a trap to the community.
You see, gamers don't care if something is fair or not, they will always act with emotion, and then, this flag system will just cause danger.
While there are Many scenarios where players may want to prejudice other players, there are two main scenarios where this occur often:
1- Someone you disagree is a beloved player in the game. You can point many mistakes, errors, and inconsistencies in this player narrative, but people don't care. Since you discord with him, you will get flagged flag by flag. In this scenario, there is no organization, there are just players getting emotional, trying to defend their beloved player that may be wrong, but is being criticized, and so on, they will get their revenge on you by flagging your comments.
2 - The other scenario is very similar in one way, with the difference that this is a more organized way. Let's say someone is telling something in the Forum that may compromise a guild action or is just a disagreeing with some player of some guild, that as in the scenario behind, is beloved by the guild. Then much more easily, they will target the disagreeable player's comments, and he will be blocked as well.
This very article can be flagged using this system.
I like to remember there are many other scenarios where people who did nothing wrong, can get punished in this system for telling their opinion over time in the Forum.
You see, this is just one more step back For the game. There are many sins the game has that make it lose players every day. This is one that affects especially long time players.
Find the balance between generating money for the game and not listen to players that never know what they want, is the balance to at least keep the game alive.
A simple example of how players can push things for nothing:
Back then, people would fight here in the Forum for a New Rank Class. When class Rank 9 finally got out, before the re:build, people were already asking when class 10 would get out, already fighting in the Forum. They simply don't know what they want, and some players here in this forum get too much attention, probably making you guys make mistakes by listening to them. But that is another topic.
I just wanted to show how giving power to players is not a good option.
I really don't want you to see this as my personal problem. There will be haters down there of course, but I'm doing this for you Staff, to know what happens. Nothing more. I really don't care much if you guys will do something. And to tell the truth, I lost this sense of "justice" long ago in this same Forum, so I expect nothing, while I had the sensation I needed to tell you this. So you don't need to answer me, I really don't expect an excuse, I just wanted you to know it, nothing more.
Solutions: Change this system. Let only GMs decide what comments should be flagged or not, or disable flag, and let only GMs decide if players should be blocked or not in the Forum. Never let the players decide something, they don't care about justice or community, they care only about the people they like, that they probably don't even know for real.
I thought on mark the staff here with "@staff_", but I know you will read if you really care. If not, there is no problem the things that make the game or community worse continue.