The new error now.
Are they limiting players' access? Maybe…
@GM_Francis same problem is happening to me, could you please fix this, silute is down.
I'm having the same problem
i'm having the same problem, few minutes ago I was playing normally. Silute is down
Hello Everyone,
We deeply apologize for the inconvenience that this issue may have caused. Our development team is currently investigating the matter. We could only ask for your patience and understanding.
Thank you!
Hello, please inform us immediately if you are still facing an error message. Currently, players should be able to access all servers.
I'm too.Help me pls i can´t play on the Europa server!
Hello, i have a problem i can´t join on the europa server. Error code 16
We're still on weekly maintenance.

We did have a temporary maintenance in the NA server…
However, if you play on another one, please try accessing the server again.
If you are still having a problem, please tell us which server you are on.
Hello I have error code 16 on europe feldman server. However, if you play on another one, please try accessing the server again ( not help )
Who have error code 16 on Europe Feldman server - try change channel (under bottom 'enter').
Stuck in Mullers Passage which is only one channel with this error on one of my chars and its only place with necro trainer too(( server Fedimian(EU)
Hellow every one!
This problem has appeared to RCN block IP (Some Steam service) for Rus region and some CIS. If your character stuck somewhere on mape with one ch use VPN connection to free him but it just crutch.
(Sorry for my English)
Behold…today and the second blockbuster caught the same mistake (26.05.18 - 11:05). error code 16, you hit job level and took the profession of the NECROMANCER (same as first character), has agreed to go to PS…and here is here the flew, quite. the login attempt error 16, does not change the channel - he's like in the first case only 1…tried to attach a screenshot of the error, why it is not working( really nothing can be done and I'll have to forget about these characters and the game?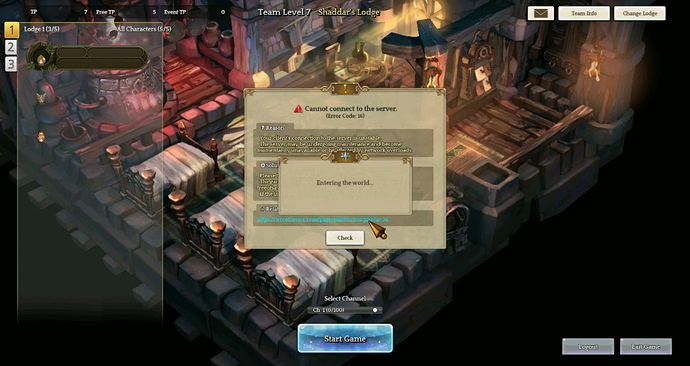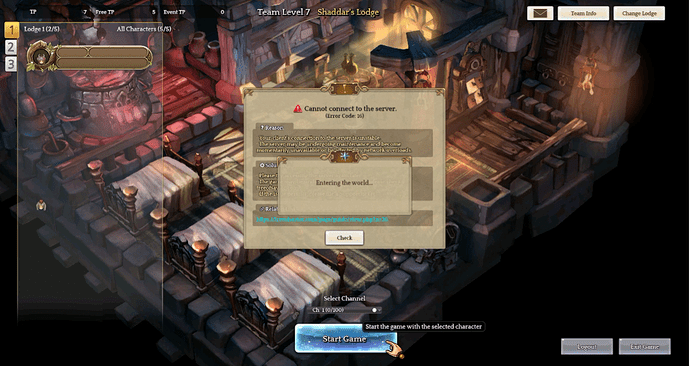 Which server are you on? It could be an issue will your internet connection.
I would be more than happy to move your character's back to town if you are unable to log in.
I just reinstalled after not playing for a long time, and I can't get into the game at all. Trying to connect to NA Klapedia, but the other servers won't let me in either.