This is a robot which will show items and other Tree of Savior info directly on your Discord Server, so you will be able to access it quickly. It is for convenience. Please read this post for a brief explanation of some of its functions.
The robot gets information from:
-Tree of Savior official announcements
-Translation Pastebin
-Tosneet database
-Steamspy
---
RAWR Robot commands
The robot is named !rawr.

To use the robot, type !rawr and add a command.
Commands:

---
Example News command
The official Tree of Savior announcements are displayed. You may select a link.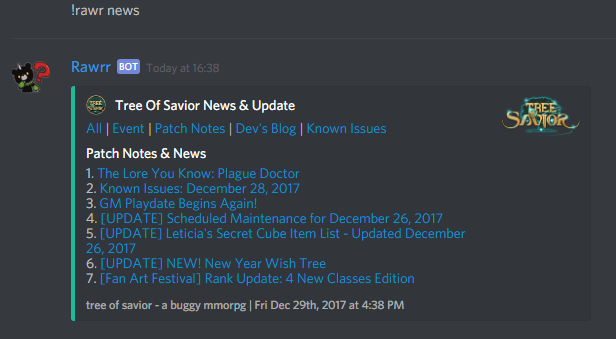 ---
Example of item command
This was generated by:
!rawr get masinios, and hitting enter.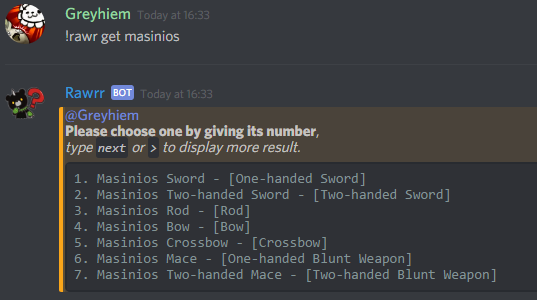 then, typing 4 and hitting enter to select the bow. The selection display will automatically disappear and a new item display will replace it:
---
Example Skill command
Type !rawr skill sr, and hit enter.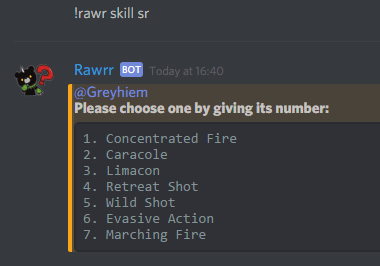 Then select Limacon by typing 3 and hitting enter. The selection-display is automatically deleted and changed to the new display of Limacon.
Note: currently the skill % factor damage does not show yet, however it will be updated to show in Discord soon.
---
Robot Link
It is recommended to use this robot in a separate Discord Room on your server because the Display is big for some commands.
If you like this robot, you may use it by giving it permissions: https://discordapp.com/api/oauth2/authorize?client_id=336363921466195968&scope=bot&permissions=0
---
In Development
This robot is in development, more functions shall be added.
The final product aims to be similar to this, please click on the image below to view the animation.
---
Please reply to this post or contact @Jiyuu for development suggestions, questions, (…).
Github Link: https://github.com/helloaldrian/Rawr