Please fill in as much as you can :
Date and Time(Please, specify the timezone) :
9:50 9/29/2020 GMT/UTC + 8h
Server Name:
Telsiai SEA
Team Name:
Can't make a new one.
Character Name:
Can't even make it here.
Bug Description :
I can't create team name even if it's random. Even if its LKJASHDLASDksd it still won't allow me to create even if its a better name like Shielkiey or whatever.
Steps to reproduce the issue :
Quit the game
Restart PC
Restart game
Screenshots / Video :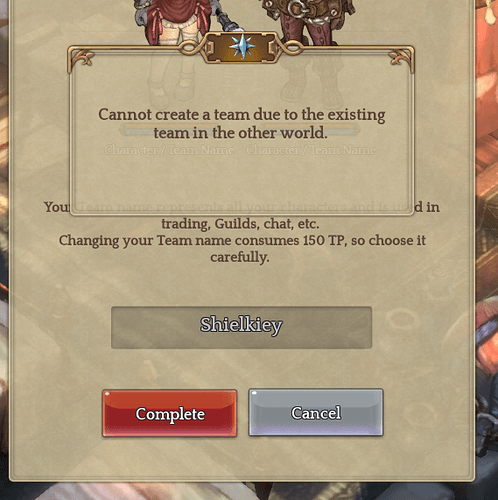 Game Control Mode (Keyboard/Joypad/Mouse) :
Keyboard
System
CPU : i7-7700k
RAM : 16gb
Graphics Card : GTX 1070
Mainboard : Strix h270F gaming
Storage : 1tb hdd, 256gb ssd
OS : Windows 10
Internet Connection : Good, Globe
Country, Region : Philippines, Cebu