The first night was fun. The biggest problems were lag and the balance between attacking and defending. Since everyone's talking about lag, I'll start with the latter. In game modes like this, it's important to let players who don't have big teams feel like they can have a worthwhile time. If the game is perceived as a guaranteed win for the established defending guild every time, players will drop out. The safety zone dance helped with this since it gave isolated players a way to fight without dying constantly, but format changes will be needed to let the little guys go after the main objective, so I recommend a guild alliance system.
Due to new information becoming available in the rest of the testing period, some of the stuff below will be revised. Updates to follow in a reply later.
Guild Alliances
Allow guilds to group up for a territory wars battle and function like one guild within that battle. Many guilds don't want to merge permanently because they want to have different guild policies, but in territory wars, you need to be big to compete.
Only allow attackers to have alliances. The winning alliance's host guild will have to defend alone next time, ensuring the top guilds can't just group up to monopolize the map forever.
Limit the number of players in an alliance to the number of players one guild can have. Only count players who join the territory war so guilds won't have to remove inactive players.
Automatically divide rewards evenly. The icon on the map will belong to the host guild that organizes the alliance.
Defender Bonuses
The format of the wars, with special bonuses for defenders, favors defense so much that it's likely the first guild to secure the spot will just hold onto it forever. To prevent this, give the defender bonuses diminishing and eventually negative returns so a guild that has held a map for many weeks will suffer bigger and bigger combat debuffs until they're eventually overthrown.
The map was full of very narrow chokepoints, which make it impossible for players to maneuver around. When a hallway is being blocked by an organized guild, it becomes totally impassable, favoring the defending guild too much. Maps with wide open spaces would be more balanced.
Safety Dance
I feared spawn camping would make it impossible to even zone in, but the safety zone system did a great job of letting players enter the map. Another benefit is it allows isolated players and small groups to stay alive and launch attacks from safety, so they can participate without just dying constantly. They become a course hazard that competing guilds have to avoid.
The only problem is those competing guilds can't do anything about being cc'd and aoe'd the moment they leave the safety zone, so balance it by having the safety zone buff last an extra 3-5 seconds after you leave the zone. The exact time will need testing to prevent hasted cataphracts from attacking the capture point while they're still safety buffed. Templar member summoning should remove the buff. Let safety buffed players walk through obstacles like ice walls the way they walk through them in town, too. This will let people get away from the safety zone when they want to, but still allow weak players to use the safety zone to participate.
The golem bosses were able to get the safety buff and become invincible, as pictured here. Maybe they wanted to prevent players from using the safety zone to slaughter bosses while invincible, but this makes bosses unkillable, so maybe they should run back to their rooms after getting the buff.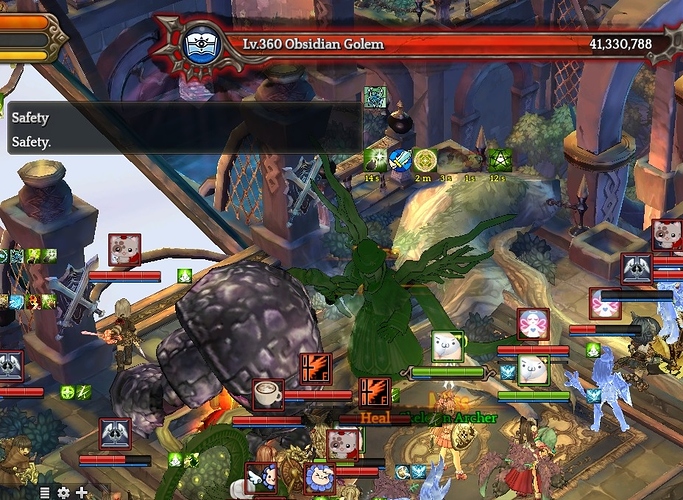 Respawns
Consider adding a capturable respawn objective so you don't always have to go back to town. To make it strategic, instead of a simple unlockable spawn point, have a goddess statue than can be controlled by either all attackers collectively or the defenders. If the attackers have it, they can respawn at a random safety zone. If the defenders have it, then nobody can respawn within the map, so it'll be hard for them to hold the statue. This will give the defenders a reason to leave the capture point, add a good side objective, and still leave an important role for squire tents.
Bugs
The points UI didn't appear for me at all. I couldn't see the green lines around the safety zone, either. In the final screen at the end, which had untranslated Korean text, the winning guild's icon cycled through several other guilds' icons for no apparent reason. TBL rules didn't seem to apply, which is mostly fine since TBL rules are for nerds, but something has to be done about invincibility skill uptimes.
The game crashed multiple times. Other players were pointing out that Gevura crashes the game, and sure enough, it did. The other crash happened at 0.35 FPS, so that was probably the reason for it, but the Gevura one was at 9.62 FPS.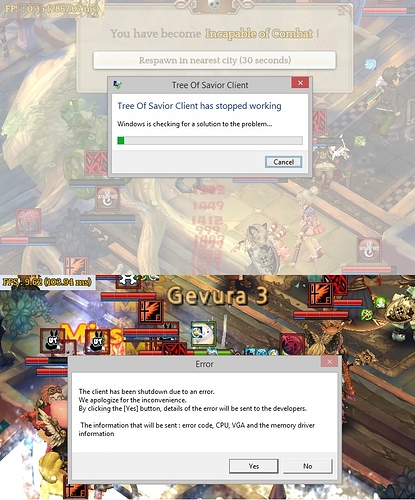 On the bright side, I only failed to load into the map once. Before the optimization patch, trying to load into a map with so many players fighting would've caused crashes 100% of the time. Here I could enter right in the middle of a battle, and crashes are less frequent than before, so I can spend a lot more time playing than I could in the old GBL.
Lag and Low Framerates
Low slideshow framerates happened a bunch of times. However, framerates were possibly up to 3 times higher than where they were before the optimizations.
10.85 FPS standing around in a 104 player Steel Heights waiting for it to start
1.13 to 3.57 FPS a short time after the start, when I tried to get out of the safety zone. This was moments before the 0.35 FPS crash picture.
8.72 FPS to 15ish FPS during a fight in the middle of the war with a bunch of players around
21.17 FPS in the right side golem room with about a dozen players and a boss on screen.
4.13 FPS to 10.81 FPS when the left golem strayed into the safety zone.
3.69 FPS to 7.92 FPS while ambushing two big guilds fighting each other.
A year ago, most of those single digit situations would've crashed the game.
Here's some ping times. Another one not pictured got just barely over 1.0 seconds. I get 21ms to the Amazon datacenter directly, and in game just now was between 0.049835 and 0.066788.



These times did not reflect the massive delays when casting skills. Frequently, I'd press a button and 2 or 3 seconds would go by before the skill cast, and then an additional long delay would happen before the skill's effects showed up. Other players complained about not even being able to target me. I had to rely on summons, AoE's, and auto-targeting skills to do anything. Chat worked fine the whole time, though.
Also that voice that announces when the battle starts and stops is a cute touch. I like the new character display with no names and the guild icons and HP bars on top, and the large zoom out range was really necessary.
CPU: AMD Phenom II X4 965 3.4GHz
RAM: 8GB
Graphics Card: Radeon RX 560
OS: Windows 8.1
Internet Connection Speed: 16mb down/3mb up cable, 21ms ping time to the Amazon datacenter the servers are in
Team Name: Triela
Character Name: Vianne
Class Build: Cryo3/Sorc3/Sage2
Country/State: US
Comments