Please fill in as much as you can :
Date and Time(2019/03/20 21:00 UTC+8) :
Server Name: Telsiai
Team Name: Tsukisiro
Character Name: Yukime
Bug Description:
Select the Character "Yukime" and Start Game.
After loading, I always see the error dialog.
Steps to reproduce the issue :
Warp form "Klaipeda" to "Dina Bee Farm".
wait for loading.
see the error dialog.
Screenshots / Video :
(attach screenshots or videos regarding the bug)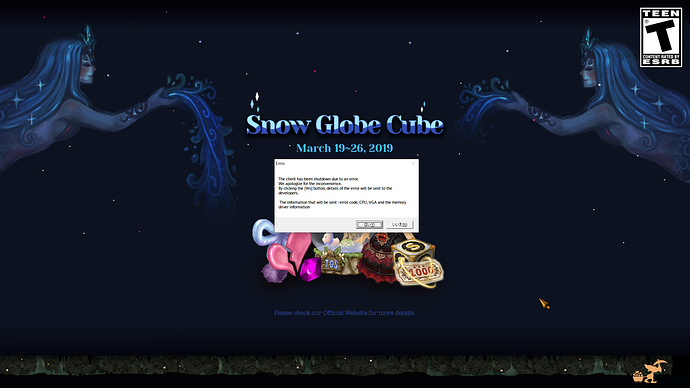 Game Control Mode (Keyboard/Joypad/Mouse) :
Joypad
System
CPU : Intel® Core™ i5-4460 CPU @ 3.20GHz
RAM : 32GB
Graphics Card : AMD Radeon HD 7700 Series
Mainboard : ASUS B85-PRO GAMER
Storage : WD1002FAEX
OS : win10 x64 1809 build 17763.379
Internet Connection : Cable
Country, Region : Taiwan, Taipei