Greetings, savior!
Thank you for reporting the issue

Could you try to connect to the game with 32 bit please?
If the matter persists, please send us a ticket
For more details of 64 bit and DirectX 11, please click the follow:

Thank you.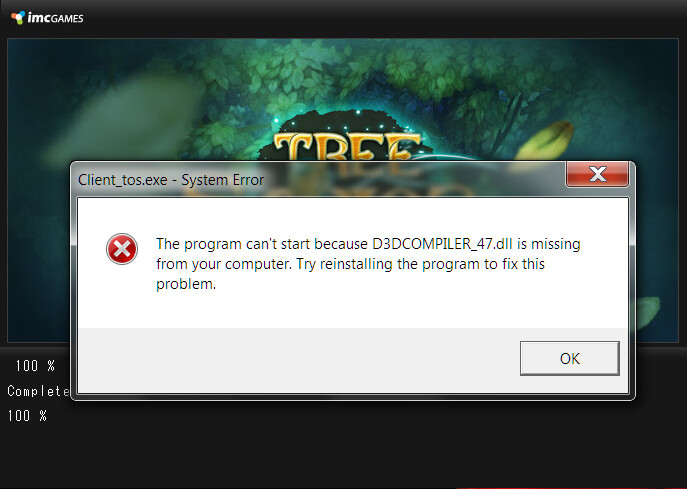 32bit is also not working,
Thank you for reply.
Please try these possible workarounds below to see whether the problem gets fixed.
Right click on Tree of Savior (English Ver.)
Click on Properties
Click Local Files tab
Click Verify Integrity of Game Cache
If the matter persists, please try to re-install the game.
Thank you.
after this att my controller doesn't work , I've checked the configuration and my controller is properly configurated on steam, but it don't work just in tree of savior, do you have any clue about what can be happening?
joystick controller is not working
What controller do you use? my xbox one controller work fine on both 32 and 64 bit
I manage to get in but i now have 1 fps

very sad, my ToS DX9/11 does not start, the black screen crashes
@Staff_Jin --> [Linux] The graphic card does not support DirectX11 (13EP) can't play waiting to patch update fix client
I use ps4 controller, it was fine before the update, I've checked steam and it was properly working even in other games, just in TOS it's not working
The workaround has been widely know know tho. you have 3 option:
a. Disable steam in-game overlay
b. Disable steam input in tos properties in steam.
c. Use DS4Windows instead of steam controller driver.
I have a bit different issue the game starts normally in 64 bit so problem starts after entering the interaction with quest objectives becomes disabled anything that requires space key isn't working.
try going to options then choose
"mouse" then switch back to "keyboard" again.
Everything worked just fine when i log inn again but if the problem returns i'll try the method you mentioned, so thank you.