Date and Time(Please, specify the timezone): 4:53pm server time
Server Name: Klaipeda
Team Name: Tibi
Character Name: Tui
Bug Description
(letting us know what you were doing before, during, and after the bug happened will help us a lot)
For some reason my Dragoon - Retiarius - Templar have 1 physical attack. Come on, I'm a full support, but I have more damage than 3k each hit. I used an attribute potion reset but still 1 physical attack. I use 1 handed spear + dagger. Apparently the bug persists with 2 handed spear. The bug started yesterday I think. I remember changing classes and I was dealing damage in the first day of the patch.
Screenshots / Video
(attach screenshots or videos regarding the bug)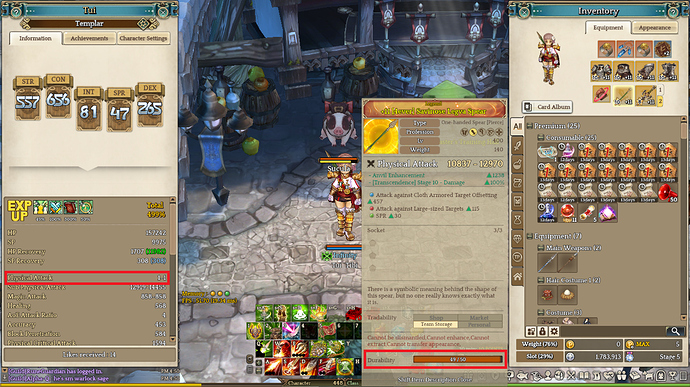 Game Control Mode (Keyboard/Joypad/Mouse): Keyboard
Thank you.
@EDIT
Today I logged in and my physical attack is a bit higher, but still far from what I would have.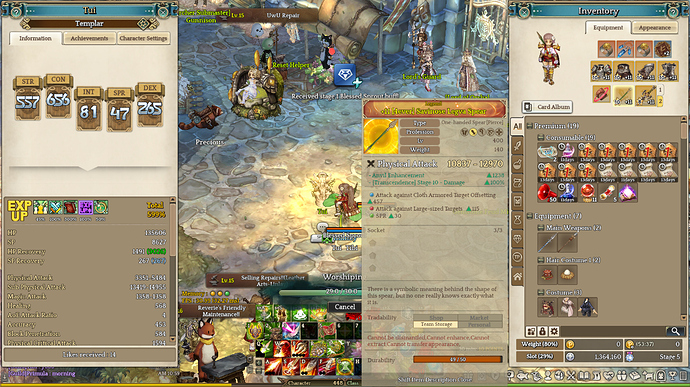 If I equip and unequip my 1h spear and dagger, physical attack goes even lower.