no mob spawn points, because too many this mobs 7 10 on map

Thanks. Yes, I am still looking for itos images of these drops, as I do not farm them myself.
This is Lamp

Candlestick


Black Flower


@artesinka Nicopolis feline (also the drop for the most popular item - Asio Pistol) was easy to farm on Spell Tome town (on thaumathurge, with basecamp). Think around 20-30 drops per hour (half if not thauma). The other items were difficult due to mob density yes. Only got Lydia's red flower to drop from the Cat mob on Barynwell 85, and the Starry Dew from the flying maid mobs at barynwell 86 for example. Need to find drop table.
Wait you mean it's not going to be the normal RNG shitfest?
Wow I'm surprised, pleasantly so.
Raidboss drops cube, from cube you may get:
-golden socket
-recipe for raid item
-Practonium
-legendary card
-boss fragment
If you are unlucky and only get boss fragments, you may trade it for a recipe. I think recipe trade might be random (not sure), with a chance to get a finished item too.
Edit: I will add locations for remaining materials, I forgot to add it.
I have added the drop locations now, summary:
Astral Tower 1F & 4F: Lamp (Wastrel rod, staff, dagger)
Astral Tower 12F: Lens (Wastrel cannon, musket, pistol)
Astral Tower 20F: Arrow (Wastrel crossbow, bow)
Astral Tower 21F: Candle (for Wastrel sword, 2-H sword, rapier, 2-H spear)
Baltinel Memorial, Gliehel Memorial, Frienel Memorial: Royal blade (Wastrel shield, mace, 2-H mace)

Barynwell Waters 85: Red flower (Asio sword, 2-H sword, crossbow, bow)
Barynwell Waters 86: Starry dew (Asio rapier, 2-H spear, spear)
Barynwell Waters 87: Black flower (Asio 2-H mace, mace, shield)
Starry Town & Feline Post: nicopolis star drop (Asio rod, staff)
Spell Tome Town: nicopolis feline (Asio cannon, dagger, musket, pistol)
Will tidy first post and shorten it later (edit: shortened). Adding weapon stats & effects once they reach ktos (final version).
ty, but need some names mobs maybe, or with any mob?
i see today royal blade fragments drop only with bishop mobs, they spawn like 5 mobs on every map
I don't think any mob, but I do not have information on specific drop % and drop tables yet.
Wastrel (nicopolis items):
Royal blade drops from bishop mobs. I had most success of getting drops at the Gliehel Memorial's big bishop mobs. But the spawn is low. Perhaps try the bishop mobs at the other memorials?
Lens from the mad lens or the cog-like mobs.
Chestnut shell arrow I found it drops most from the cloaked ranged mobs.
Asio (novaha items):
Red flower most drops from the flower cats (lotuscat?).
Starry dew I found drops regularly from the flying maid mobs.
Nicopolis star drop any mob.
Nicopolis feline any mob.
All of the materials are zone-wide drops. All mobs in the given zones have an equal chance of dropping them, but the drop rates on the materials are not the same. They range from 1.0% to 1.7% depending on the zone.
Tree of Wizards confirmed.
Thanks for info greyheim/crevox <3
Many many thanks Crevox. Added to first post.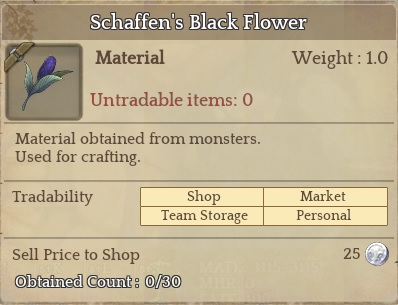 Schaffen's Black Flower iTOS item image, dropped in Barynwells 87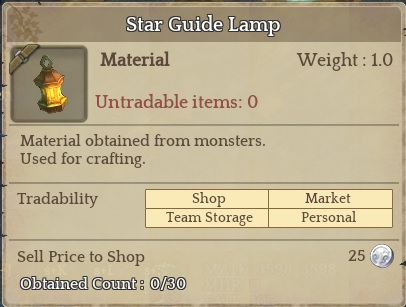 Star Guide Lamp from Astral Tower 1F ( Didn't check if these dropped in 4F too, but if they do, that's the floor for farming it, since mob density is way better)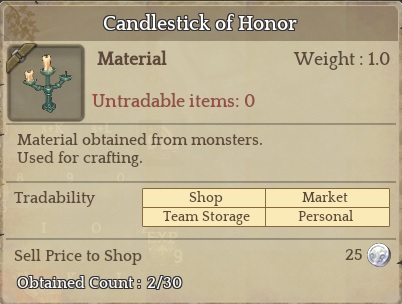 Candlestick of Honor, Astral Tower 21F drop
Thanks, I am glad. All materials & images + drop locations are finished now.
Is there any info regarding how many boss fragments are possible to get from a single cube?
I don't know the amount of fragments per cube.
Some more info (might be subject to changes)
Raid entry requires 6 raid portal stones (+1 stone per additional entry, count resets at usual time).
For the first clear (1x per team), you will be rewarded with 7 raid portal stones + 3 additional cubes (total of 4 cubes).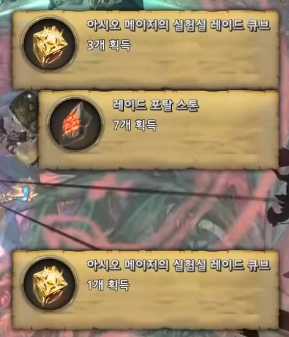 Next clears drop 1 cube as a reward.
---
Update: the new raid has arrived on KTOS, and weapon stats & effects are unchanged.
Edit:added to first post
Finally mergen's rabbit arrives through Asio bow's effect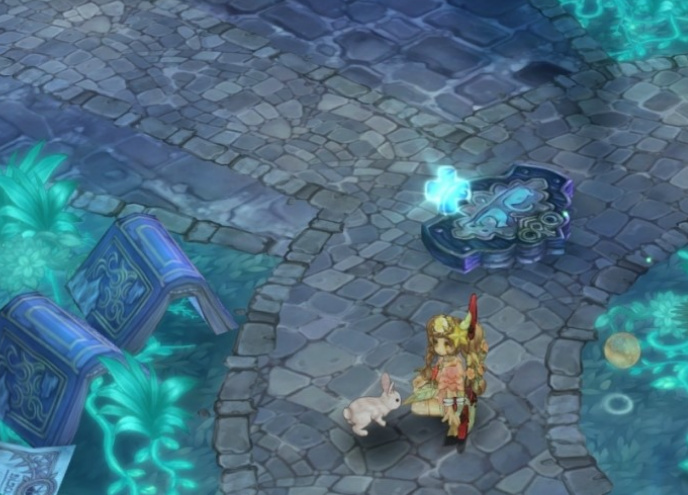 Hey @greyhiem is the Asio's Rapier description 100% correct? Is that +2 skill level only to Epee Garde? Most raw translates i checked a while back had it as: "+2 fencer skills", just wanted to make sure of it.
What about 380 raid armors? There will be none?
Hi vfajoses. It's good to be sure and ask. The Asio rapier's effect is correct, I just checked it again to be sure. I will show it again: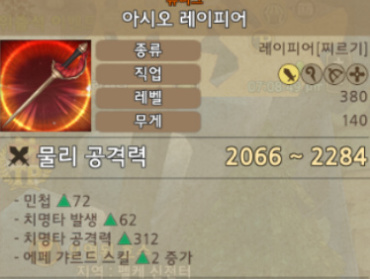 아시오 레이피어 (Asio Rapier)
민첩▲72 (DEX +72)
치명타 발생▲62 (Critical rate +62)
치명타 공격력▲312 (Critical attack +312)
에페 갸르드 스킬 ▲2 증가 (Epee Garde Skill +2 increase)
Epee Garde = 에페 갸르드


---
No raid 380 armours.
Thanks a lot for the quick answer, grey. I was somewhat confused with the previous raw translations, but it's a very nice buff nevertheless. Thanks for clarifying it!
I made these two simple guide videos for the new Unique Raids.
For those interested, please take a look~
Mage Asio's Laboratory

Magic Research Facility

ye sure hidden behind a bow like wtf imc if this could be easily supposed to be a normal C3 attribute with whatever you would like to add since the gif file back then was showing the Mergen with Rabbi.
Your desicions imc always bad man wt